The complaints surrounding the poor condition of the rugby field in the National Parak made by the Guyana Rugby Football Union in the past continued yesterday as GRFU president, Kit Nascimento expressed his dissatisfaction with the ground to Stabroek Sport.
Nascimento's remarks pertaining to the field were made when asked for a comment on the national Sevens rugby team's preparation for the International Rugby Board (IRB) Sevens World Series on February 12 and 13 next year in Las Vegas, United States.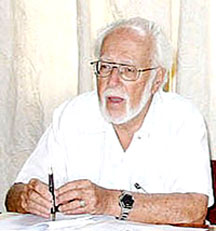 The GRFU president stated that he has made appeals to National Park officials to address the condition of the field, which is constantly flooded and is also being damaged by soccer players who utilize the ground in rainy conditions.
In doing so, Nascimento explained that the field is being "messed up" since the soccer players continue using the field when it is soggy, making it unsuitable for playing rugby if and when it dries following the rainy season.
"I made an appeal to the National Park for them to get the field in shape because the field is a mess and has the additional problem of the soccer players"
"We are staying off field and soccer players going on field and messing it up and the security of the National Park seems to be incapable of stopping it" said Nascimento in relation to the issue.
Meanwhile, when contacted by Stabroek Sport yesterday, General Manager of the National Parks Commission, Yolanda Vasconcellos said that work is currently being done to the rugby field in the National Park. "As we speak, work is being done to raise the level of the ground and bring it to a level of play, but it's a little challenging with the weather" said Vasconcellos.
In relation to the football players using the ground Vasconcellos added: "We put systems in place to address that so there should not be a reoccurrence of that".
Meanwhile, addressing the team's preparations for their upcoming tournament, Nascimento stated that the squad will be beginning on-field preparation in January. "The team is working and training together, they are still working in the gym, but they will be moving to the field by the first couple weeks in January" Nascimento related.
However, for the squad's field-work which according to Nascimento's estimation will begin in "mid-January", the GRFU will be seeking authorization to use the Providence National Stadium, instead of the National Park.
According to Nascimento, the GRFU is in the process of making appeals to the relevant authorities in an effort to get permission for the use of the National Stadium in January.
Around the Web