While art for some may be just a painting, for emerging artist Anil Roberts it is the medium through which deeper meaning and appreciation for his indigenous culture can be transmitted.
"Amerindian way of life is art; everything we do is an art form whether it is farming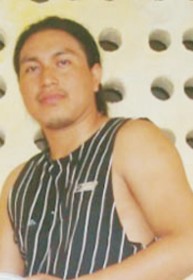 or fishing," says Anil, a Makushi from Annai, a community which is considered to be the gateway to the Rupununi Savannahs. He says he is proud of his Amerindian heritage and highlights this rich culture and aspects of history and folklore in his paintings.
"I find these stories very interesting and I'm able to let persons catch a glimpse into this world through my work," he adds.  Through his paintings, he hopes that others would be able to appreciate and learn about the culture and belief of Amerindians. "Art allows you to express yourself – your thoughts and emotions through paintings," he says.
Today, he is an art teacher at Mae's Schools teaching primary and secondary students.  However the road to his official entry into the art world began in St Ignatius after he had completed his secondary education in 1999.  He says that while art was not among the subjects he wrote at the Caribbean Secondary Education Certificate examinations, drawing was always in his blood. "I always liked drawing so it was something I did in my spare time."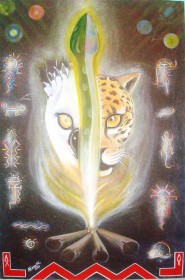 While he was unsure of his direction, fate stepped in and an encouraging nudge by activist Vanda Radzik, whom he affectionately calls his second mother, led to his enrolment at the Burrowes School of Art.  In 2003, when he graduated, he was named the Best Graduating Student. After art school, he taught at the Alleyne's High School before returning to the Rupununi for a two-year period. In 2005, he attended the University of Guyana to pursue a degree in Fine Arts. He graduated last year.
"I like art because of my cultural background, it comes out better than normal paintings since it has significance," says Anil. He is of the opinion that every artist should make an impact through their work which must be able to captivate the audience.
"I haven't made an impact on the world of art as yet," he says. However, he believes that in the future with much work and commitment he will be able to produce work with which he is totally satisfied. His comfort zone lies in focusing on abstract and realistic pieces. Abstract allows him to capture the details of objects while realistic brings landscapes to life.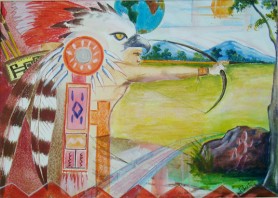 Responding to claims that art does not make money in Guyana, he says it's all in the marketing of one's talent. He says he receives requests from persons who are familiar with his work to do illustrations and other projects for them.
In collaboration with veteran artist George Simon, Roberts has worked on several murals which can be found at the Umana Yana, National Stadium and University of Guyana.  "I love the idea of putting your work where it can be seen by people," he says. One of his most recent murals can be found at Jerries on Robb Street while his current project is one at Iwokrama which is expected to be completed by November.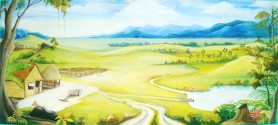 He credits Simon, whom he has tremendous respect for, with being his tutor and moulding his understanding of the deeper aspects of his culture.  This deeper appreciation is in turn reflected in his work.
Of his works, several which have been exhibited at Castellani House. He says they are all unique because he tries to make them all stand out. While he does not have a favourite piece, the painting "Hunter's Eye" is one of his best, he says.
In the future, Anil wants to pursue further studies in art and work towards the development of art in Guyana through a collaborative effort among local artists. He also sees himself playing a vital role in the leadership and development of his community.
Anil speaks proudly of his culture which he said is unique.  He believes that it is important for this way of life to be captured in various works of art and added that Amerindian heritage is one which should be celebrated since it has survived over the years.
Around the Web