MOHALI, India, (Reuters) – Shahid Afridi arrived  for the World Cup with a "rag-tag bunch of players" and in the  space of six short weeks turned them into a strong Pakistan  outfit.
India beat Pakistan in the semi-finals to dash their hopes  of a second title but Afridi's men can return home with their  heads held high after putting on a great show in the  sub-continent despite their tumultuous run-up to the showpiece  event.
Unable to play international matches at home and tainted by  a spot-fixing scandal that robbed them of the services of three  of their best players — Salman Butt, Mohammad Asif and Mohammad  Amir — Pakistan cricket had been in disarray.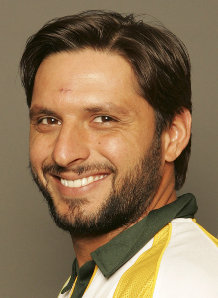 But Afridi took it upon himself to prove the team can create  headlines on the pitch and not just off it.
"It has been a difficult 10 months for us," Afridi admitted  after bowing out of the Cup on Wednesday.
"We had a rag-tag bunch of players coming into the World Cup  and considering that it has been a good performance."
The World Cup was a chance of redemption for Afridi's men  and the captain was proud of their exploits.
"In my opinion we have played better than 2003 and 2007 when  our teams were much better. Nobody was expecting anything from  this team. I am proud of this team," Afridi said.
There was indeed a lot to be proud of.
They finished top of Group A even though it included  four-times world champions Australia and tournament favourites  Sri Lanka.
They beat Sri Lanka in their own back yard by 11 runs before  pulling off a feat that no one had achieved in 12 years —  beating Australia in the World Cup.
They snapped Australia's 34-match unbeaten run in the  tournament and then followed that up by handing twice Cup  winners West Indies a 10-wicket thrashing in the quarter-finals.
But on Wednesday, the team looked ill at ease with the  worldwide attention and made schoolboy errors as they dropped  Sachin Tendulkar four times during his knock of 85.
The contest between the neighbours, who have fought three  wars since their 1947 independence, attracted two Prime  Ministers, a multitude of Indian business tycoons and Bollywood  celebrities.
The flamboyant Afridi, the highest wicket-taker in the  tournament, was not disappointed.
"The boys have really done a great job in this competition.  Some of the youngsters are very promising. We played as a unit  so I'm very happy as a captain," he said.
"Asad Shafiq and Umar Akmal played well and I hope they will  do well in the future."
Around the Web