(Trinidad Guardian) Thanks to help from the public, baby Ricardo Vijay has a bright future. The T&T Guardian published Ricardo's story on March 16, after his mother, Daramdai Vijay, appealed for help to raise TT$25,000 needed for surgery to give him a normal life. Ricardo was diagnosed with Dandy-Walker syndrome, a congenital brain malformation involving the cerebellum and the fluids around it. His mother, a Guyanese, bought Ricardo to Trinidad for medical help. He desperately needed surgery to implant a tube from his skull to his stomach to safely drain the fluid.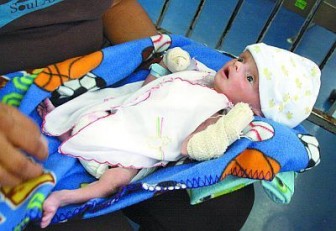 The surgery could only be performed at the Community Seventh Day Adventist Hospital, Cocorite for TT$25,000. A few days ago, Daramdai Vijay tearfully thanked members of the public who assisted in giving her son a chance for a normal life. She said the surgery was performed on March 24 at Community Hospital. She said the surgery had gone well and although there were no complications, doctors were monitoring his progress.
Vijay said Ricardo had been recovering in the Eric Williams Medical Sciences Complex and was recently discharged. Vijay said she would have to remain in Trinidad for the next few months so that Ricardo could receive regular check-ups. She said she was hoping to see Ricardo grow up to be a normal child and thanked all of those that helped make that a possibility.
Around the Web