Eleven persons are now homeless following an early morning fire which destroyed the Lot 7 'A' First Street McDoom two-storey house that they had been occupying.
According to Onika Dowding, the occupant of the bottom back half of the building, the fire started some time after 7 this morning in one of her two bedrooms. Dowding, who is a security guard, stated that she had just returned from work [around 6:10 am] and lay on the floor watching TD Jakes on television, when a power outage occurred. "So I continue lying down on the floor and then I hear a sparking sound".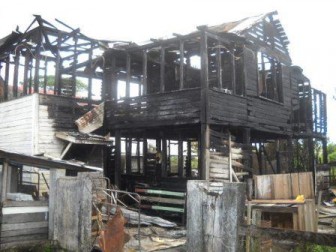 The visibly distressed woman said that she then ran into the children's room, from where the sound came, and found the mattress on fire. She then hurried out of the house screaming "fire", while trying to alert her upstairs neighbour Angela, who at that time was unaware of what had transpired. Dowding's two children [ages 11 and 3] and her niece, 16-year-old Onika Thompson were all in the house with her, but all escaped unhurt. According to the latter, she was in the kitchen with the 11-year-old cooking "the stove din light yet, I de jus cutting up de things dem", while the 3-year-old was with her aunt. She recounted that she "went outside to turn on de tank to get water to bathe and when I go out deh I see smoke coming from de side of de house, but I say musse somebody burning garbage in the front yard and I ain't tek it foh nothing". Onika related that she then returned inside only to hear her aunt screaming `fire!' It was then that she realized that the smoke was coming from the side window of the house. The young lady said that though she is uncertain about the cause of the fire, she believes that it may have been a light bulb that was hanging directly above the bed. Dowding, with tears in her eyes said she estimates her loss to be about $1M. She related that she had only just moved into the building on the 28th of last month. She also revealed that her 11-year-old daughter was preparing for a test that she was scheduled to take at school today.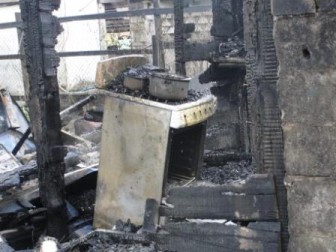 Angela Calendar, whose father owns the building and who resided in the three-bedroom upstairs, related that she was at home feeding her five children, when the fire started. "I does sell out at the street head right, so I de done cook and feeding me children, ah tell them a gon give them they food and then go and put out de stand". She said she was just about to leave when she heard Dowding screaming and, thinking it was a fight taking place downstairs, "I run and I push open de back door but I had to shut it back quick…it de black black you couldn't see nothing". Realizing that the building was on fire, Calendar said she ran to the front of the house and with her children, escaped through the front door. "If I de only lef to put out me stan' my children woulda dead," she tearfully said. It was only when she got outside that the woman was to learn about the origin of the fire. Calendar's children range in ages from one to nineteen, and she has been living there for fifteen years.
Netimah Forrester, the occupant of the one-bedroom bottom front half of the building, related to this newspaper that he had left for work around 6:15 am and, sometime after arriving there, he received a call that his home was on fire. Upon his return he found the entire building engulfed. He related that he has been staying there for close to a month.
Forrester estimates his loss to be around $600,000, while a mourning Dowding stated "is one million dollars in things I lose deh". Calendar was only able to salvage a small suitcase containing her children's documents, and she is uncertain as to the extent of her loss. She revealed that the building is insured, but all the "papers" were lost in the fire.
As to their abode for the time being, Dowding said she will be staying with her father across the street, while her children will be staying with their father. Calendar on the other hand will be staying with a friend, while her children "gone with they father". Forrester also related that he has somewhere to stay.
The fire truck arrived about half an hour after the fire started, according to Dowding. When this newspaper arrived on the scene, two fire trucks were present, the fire had already been doused and the firemen were just completing investigations. Onika also relayed that when the fire started neighbours assisted by throwing water on the burning building.
The house next door to the razed building was also affected; windows closest were broken, the water lines along with the antennae pole melted, and the walls closest to the area where the fire originated were scorched.
Around the Web