The lifeless body of a physically-challenged Mon Repos, East Coast Demerara man was yesterday pulled from his septic tank, hours after he was discovered missing from his home where several pieces of furniture had been set afire.
Abdul Azeez Haniff called 'Panjax', age 54, of Lot 23 Mon Repos Pasture is suspected to be the victim of foul play and the police along with anxious relatives are awaiting a post-mortem examination to determine how he died.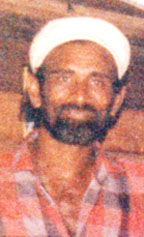 Police said in a press release that they are investigating the "suspected murder" of the man whose body was found in a septic tank at his residence at about 0530 hours.
Investigations so far revealed that the house in which Haniff lived alone was seen on fire by neighbours at about 0230 hours. Residents and relatives in the neighbourhood formed a bucket brigade and extinguished the fire. They then made checks for Haniff in the building but did not find him. Further checks resulted in his body being found in the septic tank of the home. The body is at the Lyken Funeral Parlour, the release added.
A source told this newspaper that the man was discovered head first in the septic tank and it was clear "someone put him there". The source said the man could not walk unaided and all of these factors are pointing the investigators in the direction of murder.
Relatives yesterday said that they are convinced that the man was killed but were unable to come up with a motive. The man was last seen alive on Wednesday afternoon when he was cleaning the living room/kitchen area of his modest two-bedroom, one-flat concrete home where he lived all his life.
Haniff lived next door to his mother and other relatives but none of them or other neighbours recalled hearing any strange noises prior to the fire being spotted.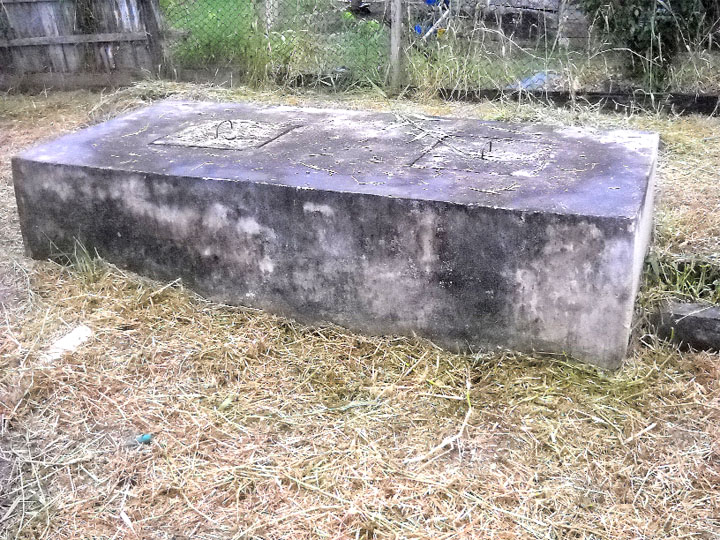 A distraught Bibi Haniff said that she was asleep when she was awakened by a neighbour who informed her that her brother's house was on fire. She said that when she looked out she saw smoke coming from the house which is located next door and immediately rushed over. The grief-stricken woman said that when she arrived, neighbours were already trying to "break the door" and quell the fire. Based on the woman's account the house was in darkness when she arrived and as such she had taken along a rechargeable lamp. She said that when she was later able to enter the house she went in search of Haniff. She said when she entered his bedroom; the bed was engulfed in flames with the mattress and pillow already burnt. Two sofas in the living room area she added were ablaze. However there was no sign of Haniff. She later said that she found it strange that select items and not the entire house was on fire.
She said that a search was immediately launched for him and at first they concluded that he had been kidnapped.  "We look all ova de place, in the garage and suh but we didn't find him", she said sadly.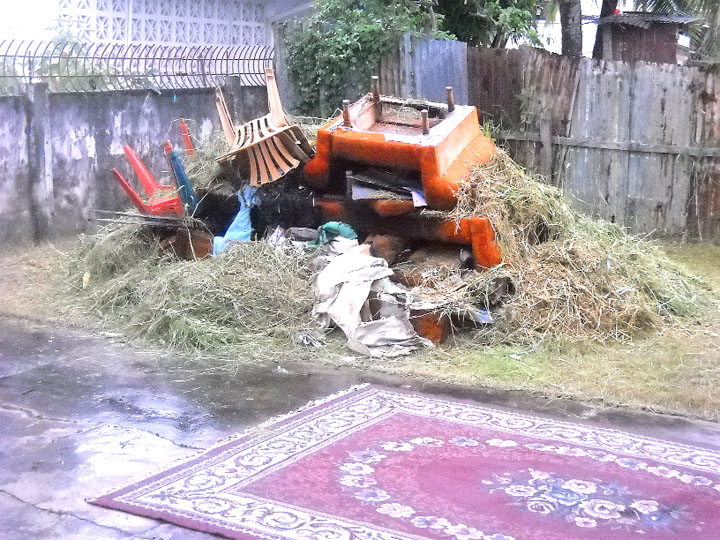 This prompted herself and relatives to report to the Beterverwagting Police Station around 0400 hours.  She said that ranks returned to the location with them and after searches they still did not locate him.
After the police left she said, "we stand up, trying to figure out what happen… like something come to we and seh we didn't check the septic tank", she recalled, adding that by this time it was the break of dawn.  She said too that by this time an elder brother who lived on the East Bank Demerara arrived and "he seh yes we could lift up de septic tank (lid) and see".
The distraught Bibi said that it was then that they stumbled upon Haniff who was clad in a pair of short pants. She said that police were contacted immediately and returned to the scene.
She said that from all appearances, the perpetrators gained entry by breaking a window. However it is unclear how they managed to leave since the front door was secured when neighbours turned up to extinguish the fire. The woman stressed that only the window was broken.
Plenty friends
The woman said that her brother had no problems with anyone but he "like get plenty friends over". She said that she did not know if he had any enemies but knew that he had a lot of friends.
She said that on two or three previous occasions, persons had broken into the home and stolen money he had hidden in one of the destroyed sofas.
She said that her brother "born and grow", at that address.
The woman said that she was convinced that he was killed. "It look like somebody throw he in deh but we don't know if they strangle he or they kill he and then throw he in there", she said when the body was pulled out, Haniff's hand was extended outwards as if he was trying to get out after being thrown in. She said that she believes that he was still alive when he was put into the septic tank.
She said that they were unable to determine if there were any marks of violence on the body.  She said, too, neighbours heard nothing prior to seeing the fire.
The woman opined that at least two persons attacked her brother as he was big built. She said too that he would have had to be lifted out of the house and into the septic tank since he was unable to walk unaided following an accident at his workplace many years ago.
She said that Haniff, a cane cutter had fallen on an estate punt about 20 years ago and has since been using crutches to walk. The crutches she said were found near a clothes horse in his bedroom; this is where he leaves it when he goes to bed. The woman said that since that accident he was unemployed but received money from the National Insurance Scheme. "So he was home all de time, he couldn't walk. He would use the crutches to go right by the gate, stand up and go in back", she said.
The woman said that police have not said anything to them yet. Bibi yesterday called on the police to work hard to find those responsibly for her brother's death.  "I want dem to check around and make sure that they get information like what really went on", she said.
Bibi described her brother as a nice person who you could always depend on.
Meanwhile, Haniff's son-in-law, Balchand Persaud called `Anand' said that he last saw the man around 1630 hours on Wednesday and he appeared to be in good spirits. He said he never expressed any fears for his safety to him.
When Stabroek News arrived at the man's home, relatives had already cleaned up and were preparing for the wake. Several ranks were at the scene conducting investigations when this newspaper left.
Haniff leaves to mourn three children, ten siblings and his mother.
Around the Web