The newest regional airline, low fare REDjet, finally touched down at Piarco International Airport this afternoon following weeks of back and forth talks between the airline and the Trinidad authorities who had initially denied the airline permission to land in the twin island.
According to the Barbados Nation the Barbados-based airline landed earlier today to much applause and some celebration.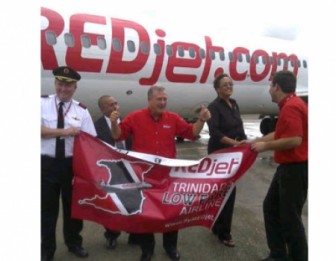 Media personnel were aboard the flight and were expected to participate in press conferences.
Only late last month comments were made by two cabinet ministers from Jamaica and Trinidad and Tobago on the safety of aircraft by REDjet and the airline had responded in a statement which had asserted that its safety was being "unfairly maligned."
The comments were reportedly made by Jamaica's Transport Minister Mike Henry and his Trinidadian counterpart Austin 'Jack' Warner. But REDjet had stated that its two MD-82 aircraft had come to the region with good credentials having been previously operated and maintained by American Airlines and having received an Export Certificate of Airworthiness from the Federal Aviation Administration (FAA) prior to being taken into service in the region.
Last week Jamaica's Transport and Works Minister Mike Henry said approval was granted for the airline to fly to that country following a series of meetings with regulatory authorities. That clearance had came just 48 hours after Trinidad and Tobago granted REDjet a licence to land at Piarco International Airport, following closed door talks between Trinidad and Tobago's Civil Aviation Authority and Airone Ventures, parent body of the carrier.
Around the Web