(Trinidad Express) Exactly one week after the bodies of Vonetta Haynes-Reyes and her sons Makasi and Malik were found at their La Horquetta home, a 23-year-old neighbour of the victims has been detained by police in connection with the murders.
The suspect, an unemployed welder, is the first person investigators have detained following the murders.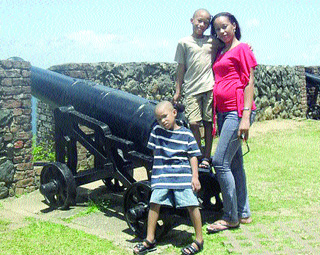 Officers had promised that by yesterday they would have arrested the suspect they had been searching for in connection with the killings. Homicide investigators led by ASP Kenrick Edwards and including PCs Marvin Pinder, Ameer Mohammed and WPC Rachel Huggins, were able to trace the suspect to the house where he was staying in St Augustine.
Police are confident that the man they have arrested is the person who killed Haynes-Reyes and her sons. Detectives had the at Augustine house under surveillance, and after they received confirmation that the suspect was asleep inside the residence, they moved in and took him into custody around 2.30 a.m. yesterday. The exercise was carried out with the assistance of officers from the Northern Division Task Force led by acting Sgt Pete Jerry.
A search warrant was also executed at the premises but nothing illegal or of evidential value in relation to the triple homicides was found, police said.
Up to late last night, the suspect was in custody being interviewed by detectives. He reportedly confessed to the crime, which police have described as robbery. Investigators have denied reports that the suspect shared an intimate relationship with Haynes-Reyes or he was obsessed with her.
Haynes-Reyes and her sons were laid to rest, side by side, at the D'Abadie Cemetery on Wednesday following a private funeral service at Allen's Funeral home and Chapel in Arima. Homicide detectives, who were also at the funeral service, were keeping an eye out for the suspect who failed to show up.
Police said one day after Haynes-Reyes and her sons were murdered, the suspect moved out from his Plumbago Avenue home.
He didn't know that police had linked him to the crime after they discovered evidence which revealed that he was the last person to see Haynes-Reyes and her sons alive. Neighbours and fellow residents in the area were also clueless regarding who the main suspect was, police said.
Post-mortem examinations conducted last Friday revealed Haynes-Reyes died from puncture wounds to the front and back of her neck while her sons died from chop wounds to the neck.
Around the Web