The pothole-filled roads in the communities of Grove and Naamryck are causing hardships and residents are calling on the authorities to undertake urgent repairs.
Several persons have complained about the state of the roads in their communities and during a visit last week to Grove, East Bank Demerara, residents of the Housing Scheme said that while the main access road was resurfaced about two years ago, the side streets have not been upgraded and are deteriorating.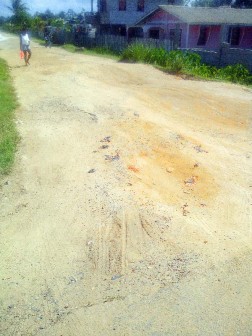 One woman said that the bad roads are causing transportation difficulties since the taxis operating in the area refuse to go through the deplorable streets. "The cars is just drop you to the head of the street and you is gotta walk in no matter how far down you live," she said.
Another resident, Waveney Allen, said that all eight side streets are filled with potholes. The state of the streets is so bad that it is almost impossible for vehicles to easily traverse the area, she said. "My son got a van and it is high and when you driving through the holes you can hear how it grazing. You can imagine how bad it is for those cars," she stated.
Residents of Matthew Street said that this street is the worst of all and taxis do not even consider driving through the stretch.
Meanwhile, in the village of Naamryck, East Bank Essequibo, one woman, who declined to be named, told Stabroek News that the potholes on the road have caused students to drop-out of school because the fares are high and many times, vehicles do not want to traverse certain areas.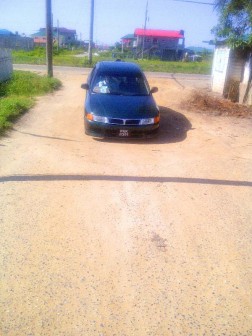 The road to Naamryck in the Parika Backdam has been repaired many times after constant complaints but has not been paved despite calls for this by residents. The authorities have said that the cost of paving the road is very high.
During the rainy season, the road deteriorates. Naamryck has a population of about 500 persons and is a major farming area and residents say they are very much in need of proper infrastructure.
They explained that during the rainy season, it is almost impossible to find transportation, as hire car operators refuse to traverse pot-holed streets. This has resulted in a number of school drop-outs in the community. "You know how much children had to stop go school just because of these roads? They can't go…it ain't got no way for them to go," the woman said.
In addition, residents said that they do not have access to potable water in their homes and have to resort to using water from the Naamryck trench for their day-to-day purposes. They are calling for these issues to be addressed.
Around the Web