The FIFA Ethics Committee today opened ethics proceedings against 16 Caribbean Football Union (CFU) officials following an alleged bribery scandal at a Trinidad meeting and head of football here, Colin Klass has been provisionally suspended.
Klass and other local officials who attended the Trinidad meeting at which it is alleged that FIFA presidential candidate Mohamed Bin Hammam passed around bribes have repeatedly denied any wrongdoing.
FIFA issued the following release today:
"The FIFA Ethics Committee has today (11 August 2011) opened ethics proceedings against 16 Caribbean Football Union (CFU) officials in regard to apparent violations of the Code of Ethics connected to the investigation of the cases related to the special meeting of the CFU held in Trinidad & Tobago on 10 and 11 May 2011.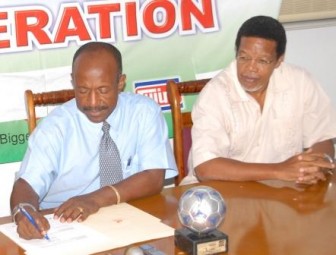 "One of the officials, Colin Klass (Guyana), has been provisionally suspended from taking part in any football-related activity (administrative, sports or any other) by the chairman of the Ethics Committee, Claudio Sulser (Switzerland), after consideration of the specific information received on this matter.
"Judge Robert T. Torres, a member of the Ethics Committee, has been entrusted by the committee with supervising and directing the investigation. With the approval of the committee, he has engaged Freeh Group International Europe (FGI Europe) and the secretariat of the Ethics Committee to assist the committee with this task. The Ethics Committee will contact the 16 officials to arrange further interviews in connection with these proceedings.
"It is important to note that the investigations are still ongoing, and that it is therefore possible that further proceedings could be opened in the future.
"The 16 officials are as follows:
David Hinds, Mark Bob Forde (Barbados)
Franka Pickering, Aubrey Liburd (British Virgin Islands)
David Frederick (Cayman Islands)
Osiris Guzman, Felix Ledesma (Dominican Republic)
Colin Klass, Noel Adonis (Guyana)
Yves Jean-Bart (Haiti)
Anthony Johnson (St. Kitts and Nevis)
Patrick Mathurin (St. Lucia)
Joseph Delves, Ian Hypolite (St. Vincent and the Grenadines)
Richard Groden (Trinidad and Tobago)
Hillaren Frederick (US Virgin Islands)"
The bribery scandal resulted in Bin Hammam being banned by FIFA for life and has also ensnared Trinidadian football strongman Jack Warner who quit all his posts in international football in what was seen as a bid to avoid an investigation of his role in the matter. Warner has also come under pressure in Port-of-Spain over whether he should quit as a minister in the Kamla Persad-Bissessar administration.
Other regional football officials have already been sanctioned.
Caribbean Football Union officials Jason Sylvester and Debbie Minguell, received one-year bans at the enquiry that banned Bin Hammam. This week FIFA also banned Barbadian Lisle Austin for one year after he went to court in The Bahamas to try to force through his claim to succeed Jack Warner as president of the CONCACAF federation.
At the core of the scandal is an allegation that Bin Hammam of Qatar passed around envelopes crammed with money to sway Caribbean Football Union (CFU) delegates to vote for him in his then pending contest with incumbent Sepp Blatter. The meeting was held in Trinidad and Tobago in May and Warner was said to have overseen the arrangements.
Several of the CFU delegations had later expressed shock at seeing money in the envelopes at the meeting.  It was The Bahamas delegate Fred Lunn who upon seeing the money immediately contacted his superior and was advised to return the cash. He also took photographs of the bundles of cash and this was later used as evidence in the FIFA investigation.
Several other delegations also returned cash later while others said they had not received any.
It then became a question of whether Guyana's football officials would tell all about what had transpired at the meeting and if they would cooperate with the FIFA probe.
Local officials gave mixed signals about cooperating with the FIFA probe but denied receiving cash or being involved in wrongdoing.
FIFA eventually gave all Caribbean branches 48 hours to cooperate and  to "provide and report all relevant information in their possession" about the meeting at the Hyatt Regency hotel where Bin Hammam had allegedly offered cash for votes before the FIFA elections.
Klass then told the media that the GFF would not be responding to FIFA since it had  not been informed of such a directive.
He pointed out though that if it should reach that juncture the GFF will respond since the "federation has nothing to hide."
Klass  also refuted claims that he was ever in any room where money was offered when Bin Hammam met with members of the CFU at the meeting in Trinidad.  The investigation and subsequent report into the bribery claims by ex-FBI chief Louis Freeh, owner of Freeh Group International (FGI) Europe – the private investigative agency, claimed that Klass went into the room where the money was reportedly shared out, according to a testimony by The Bahamas vice-president, Lunn.
Klass continued, "I was there at intervals and those intervals I knew nothing of no money. I was never in no room where any money was issued so whoever want to put in whatever report could say whatever they want. It has nothing to do with me."
Klass also pointed out that he could not have collected any money because he did not represent Guyana but rather was in the capacity as Vice President of the CFU. He also said that to the best of his knowledge no member of the CFU executive received any money.
Further, when asked to comment on statements made by the GFF vice president Carlos Prowell, who represented Guyana along with General Secretary Adonis at the meeting, Klass said that he could say much on what the delegate said as he was not representing Guyana. Prowell had told this publication that no money was offered or received by Guyana.
Prowell had also said that when "I found out what the gifts were we [himself and Adonis] decided we were not going to accept it, adding that he had overheard what the gift contained from discussions by some members in the hotel lobby and that it would have been unethical for him to discuss the matter further.
Klass on the other hand noted "as policy of the GFF we don't collect money from anybody on behalf of the GFF, adding that if anybody or organisation has money for the GFF "you send it through the normal…if you have a cheque we might transport the cheque but we have never collected cash, the long standing president reiterated.
He went on.. "I really can't answer for the vice president and it would be an unfair question for me to answer what the vice president meant.
The vice president was at a different place and I was at a different place and we were also at different rooms and I can't account for all that might have happened", Klass fumed.
Around the Web