Davia Chambers of Trinidad and Tobago last evening bested 11 other  young women to walk away with the Miss Jamzone International pageant crown at the Splashmins Fun Park & Resort.
The announcement of Chambers as the queen around 11:30 last night did not go down well with the many who had journeyed to the Linden/Soesdyke Highway for the pageant as they felt home girl, Jovan Wilson should have been crowned. Wilson won the first-runner-up spot followed by Kenlly Aranguren of Venezuela and Fatisha Imo of St. Kitts/Nevis.
Last evening's hosting of the second leg of the pageant, which was part of a whole day affair at the fun park, brought the curtains down on the two-week Jam Zone Summer fest which has seen a number of international artistes travelling to Guyana to entertain fans even though some failed to show up while others failed to entertain.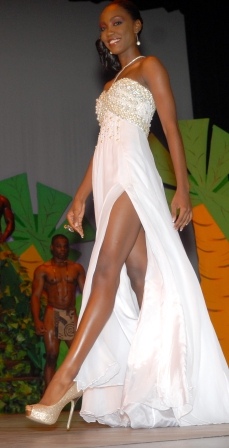 Chambers, who was also awarded the Miss Body Beautiful prize and tied with Miss Venezuela for the Miss Congeniality prize, did well in answering the final question which was posed by journalist Gordon Moseley who was one of the judges.
She was asked: If you were to become an ambassador for your country what will be your first order of business?
The new queen responded that she was already an ambassador because she has represented her country before and noted that Trinidad needs promotion because there has been a decline in tourism. She said she viewed her participation in the pageant as a way to put her country back on the market.
Around the Web