President Bharrat Jagdeo today said that his decision to appoint Henry Greene as Police Commissioner was made after the US refused to provide information on a five-year probe which it said tied Greene to drug trafficking.
Classified diplomatic cables sent to Washington by former US Embassy Charge d'Affaires Michael Thomas, show that the US in 2006 had warned of the potential embarrassment for the administration if its Police Commissioner (Greene) was indicted in a foreign court. The US, UK, Canada and EU mission chiefs here later  urged the government against going ahead with his appointment.
According to the cables, released via the WikiLeaks website, both President Jagdeo and Head of the Presidential Secretariat Dr Roger Luncheon promised to reconsider, but later back-pedalled. Thomas, who said that Luncheon kept Jagdeo in the dark about US concerns about Greene's links to criminal activities, suggested that both men misled the foreign mission chiefs.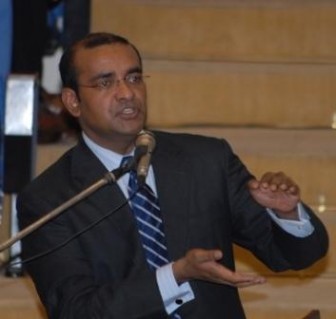 Jagdeo responding to questions from Stabroek News on the Henry Greene matter as well as claims in the cables that the Guyana Government was compromised by now convicted drug trafficker Roger Khan, said he was hesitant to answer because WikiLeaks was all about impressions.
He said that the Roger Khan issue was an impression and there is no evidence to suggest what was being said was true. He noted that while he didn't want to respond to the WikiLeaks issue he would comment on the Greene appointment.
Jagdeo reminded reporters in attendance at a press conference held at the Office of the President today of the bugging of the office of Police Commissioner Winston Felix who served before Greene took over.
He said that he is confident that it was indeed Felix who was talking to a number of people in spite of his denial. "Any sane Guyanese would know that it was him", Jagdeo said.
Recalling one of the conversations, he told reporters that Basil Williams from the People's National Congress was saying "boy you help us out on the Agricola thing" adding that Williams still needs to explain what he meant. He pointed out that the `Agricola thing' had to have been the massacre that occurred there in which a number of people were killed.
He said that as Felix was preparing for departure from his office (retirement), a US official – not the ambassador met with Khan at the Ocean View Hotel. He stressed that mention of the meeting (which occurred in early 2006) came out in evidence during Khan's court case.
Jagdeo stressed that government was unaware of the meeting between Khan and officials from the US Embassy. The government, he said had never met with Khan.
It was subsequent to this meeting, that Jagdeo was approached with information that the US had been watching Greene for five years and that he should not be appointed Top Cop.
According to Jagdeo, he questioned the embassy official as to why they were only now coming forward with the information. "Did you not see fit all of these years to come and tell me that my crime chief was involved in drug trafficking or whatever…" he recalled telling him.
Jagdeo said that the US official was repeatedly asked why they had not mentioned anything before especially to the then head of the Guyana Police Force. "We could have gotten rid of him if you had this information", he said adding that he told the official that if he produced evidence (documents) on the investigation and the linkages he might consider the matter.
According to the president, two weeks later, the US official along with some other ambassadors came to him. He said he asked for the information and was told that "they are not authorised to give me any further information. I was very angry and I might have used some words that I am not going to say here today but I said to him that I am the president and that he telling me not to appoint a citizen of this country because you have had some investigation for five years that you doing".
He said he again mentioned that during the five years of the investigation nothing was said. "You are coming to tell me and you are telling me that I must take this action based on your word that you are unprepared to give me further information. I basically told him to leave my office", Jagdeo recalled.
One of the cables released by WikiLeaks and authored by then Charge d'Affaires  Thomas stated that Jagdeo had told him at a July 18, 2006 meeting that if the US revoked Greene's visa it would give the government a basis for reviewing the decision to appoint Greene. The visa was revoked two days later but the government did not budge from this position.
Jagdeo expressed the view to reporters that the US official was trying to influence his choice of Commissioner of Police "maybe because he (Greene) is not favourable to your interest and other commissioners may have been favourable to your interests. Often it is about who gives the most information to these foreign powers. They want to influence who becomes commissioner here. We can't do that in their country but they wanted me to take a leap of faith in their words and not appoint a citizen of this country. Nothing came from them and I proceeded to appoint the gentlemen and I have thorough faith in him".
Release everything
Jagdeo today said he had called for everything on Guyana to be released. "I said so knowing that there may  very well be things that some of these ambassadors wrote that are negative about the government but what I was more interested in is  how the US government makes policies".
He said that it must be of great interest to people that an ambassador "could come and sit with you at a meeting, he could then go back and file a report to Washington. A report that you never saw so he could put whatever he wants in that report. Just embellish the report maybe to make himself look good so because this will improve their career path". He noted that one had no way of knowing whether the information contained in the report is factual or not.
"What is more important is that the government of that country will make its policies based on the report which could be very inaccurate. Apart from that half of these things are about impressions, how they feel, how I looked when (Minister) Sash Sawh died…", he said
He said the WikiLeaks reports tell a lot about how these countries make policies in relation to small countries "not based on objective assessments of situations but based on the impression of their representatives here".
"Had it not been for WikiLeaks we would never have known about this. What I am also interested in because they seem not to release those sections, about all the people who go over to these places, some of them because they want to be friendly with these states, some because they want visas to carry information and half of the information may be misleading and self serving", he stressed.
Jagdeo told reporters that the government has made its position clear pointing out that Guyana is often mentioned in the worst categories of trafficking in persons. In this case he said the basis for their conclusion was a report from a US NGO that said they took "984 kids out of extreme forms of child labour". He said it was later determined that they invented a figure so that they could get paid.
"I would not pay too much attention to the content of it (WikiLeaks) because it is an ambassador's impression of what's taking place but I am glad it has come out in the public domain", he said.
Around the Web