Twelve-year-old *Susie (not her real name) picks up her one-month-old baby daughter from the bed as she cries and cradles her.
Comforted by her young mother's arms, the baby immediately stops crying. Apart from breastfeeding her, there is not much more Susie can do to care for the baby. Susie's mother assists her in bathing and dressing the baby who can very easily be mistaken for Susie's sister.
The woman told Stabroek News that Susie "teaches the baby too much hand," meaning that she spoils her by picking her up whenever she cries. "She gat to lift she [the baby] up all the time so she can't help me do any work," the baby's grandmother complained.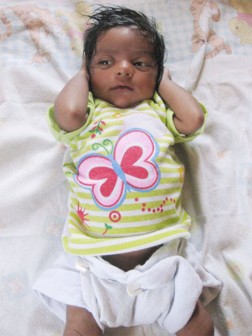 According to Susie, her baby girl does not like to be left alone but she would stop crying sometimes if she hears their voices nearby.
Susie, who lives a life of abject poverty with her alcoholic parents, was raped by a neighbour when she was an 11-year-old Grade Six student.
She was afraid to tell anyone and her parents only learnt of her ordeal after they realized she was pregnant.
The matter was reported to the Child Care and Protection Agency (CCPA) in Region Five and to the police but the 20-year-old suspect disappeared and is still to be arrested.
Susie was in the custody of the state before being placed in the care of relatives living in the village, from where she was subsequently returned to her parents' home. (Some time after the interview for this story was conducted, welfare officers once again removed Susie from her parents' home.)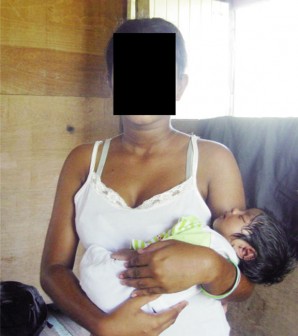 Susie wrote the National Grade Six Assessment examination in the early stage of her pregnancy and was subsequently awarded a place at a Secondary School.
However, instead of being in school like the other children she is at home taking care of her baby. Susie is now faced with the harsh reality that she is being robbed of her childhood and is longing to be involved in activities with children her age.
She lamented to this newspaper, "when I was pregnant meh couldn't go anywhere and now ah get the baby and ah still can't go anywhere."
She said persons in the neighbourhood know about "my situation and they don't say anything but if meh go anywhere else people would stare at me… I can't even go out with meh parents."
Although social workers have advised her to go back to school, that is the last thing on Susie's mind.
Not only is she afraid that her peers would taunt her about becoming a mother at that age, but she is concerned about leaving her baby alone with her mother, because of her mother's alcohol consumption.
At the time of this newspaper's visit the woman's breath reeked of alcohol. Susie's father, a labourer, had gone out to work and at 11.20 am her mother was hustling to start cooking before he got home for lunch.
She said she was angry at her daughter for not telling her that she had been raped and even said at the time that she "didn't want [Susie] or the baby there."
But after the baby was born she was immediately drawn to the little bundle of joy and remarked, "if me gat to feed she sugar water I gon mind she."
Their one-bedroom un-painted house does not have electricity and lacks other basic necessities. Apart from two beds, one of which Susie shares with her baby, there is no other furniture.
Struggle
Contacted, an officer from the Child Care & Protection Agency in Region Five told this newspaper that the girl and the baby were supposed to have remained in the care of relatives.
She said when officers visited the relatives just over a week ago, they were there. She was shocked to learn from this newspaper that the girl's father had gone to the relatives' abode and taken her home.
The officer immediately contacted the relatives and steps were taken to have her removed.
Meanwhile, Susie is still struggling to cope with motherhood; she breastfeeds her baby exclusively although she cannot afford to nourish her own body with milk and other healthy foods.
Her diet includes "black tea and tennis roll" without any butter, cheese or so for breakfast and regular "curry and rice" for the other meals.
As a result, the girl said she is not producing "enough milk and she [the baby] belly nah full."
At nights, she said, "As soon as me done feed she and put she down she gon start to cry and me gat to sit up wid she and feed she again."
Sometimes for the entire night she does not get to rest and although she would become frustrated and confused she battles it and prefers not to disturb her parents. She wants to start the baby on infant formula but cannot afford to buy it.
Susie collects $5,000 per month public assistance from the government.
The CCPA officer told this newspaper that as soon as the documents are ready Susie would also start receiving public assistance for her baby.
According to her, when Susie gave birth at the Georgetown Public Hospital officers visited her and took items for the baby.
Susie said persons from her area also gave the baby a few pieces of used clothing, which she is thankful for, but the baby is outgrowing them really quickly.
Around the Web