The Kevin Lawrence Memorial Basketball Extravaganza, set for Saturday at the Cliff Anderson Sports Hall, was officially launched yesterday at the Windjammer International Hotel, Kitty.
Lawrence's family, teammates and close friends who are involved in organizing the event were present at the launching and stated that the day of basketball is being held as a tribute to the former Ravens player, who died last March 27.
"Thank you very much for doing this and for remembering him, he loved the game with a passion… so to see we can have an extravaganza, where we can have the best of the best come out and we can all get together and watch the sport that he loved, I think it's a joyful thing, it's a great thing," said Lawrence's brother, Richard  at the launching. "This is our way of paying tribute to him and there is no better way of having his memory live on than through basketball," friend of Lawrence and one of the event's organisers, Rawle Toney added.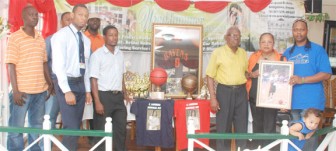 Lawrence, who was 28 at the time of his passing, died at the Georgetown Public Hospital Corporation (GPHC) after experiencing post-surgery complications following an operation he underwent the previous day.
Lawrence had sustained severe injuries to his back and neck after being involved in a car accident in Suriname and was a patient in the High Dependency Unit (HDU) at the time of his passing.
The organizers are encouraging the basketball community and all basketball fans to come out and support the event. Admission is $500 and according to the organizer all proceeds will go to a charitable organization and for the development of the Ravens Basketball Club. Organisers also noted that the event is scheduled to become an annual one. Patrons can expect to see two entertaining basketball games on Saturday. The first game will see Ravens Division Three taking on the Youth Basketball Guyana (YBG) Elite in what promises to be an entertaining matchup with the country's rising basketball stars.  Meanwhile in the second game Ravens' senior team will do battle against an All-Star side, which includes players from as far as Linden, for the Kevin Lawrence Memorial Trophy along with cash incentives and other trophies donated by the various sponsors of the event.Some of the sponsors include Dyna's Embroidery, K&VC, Patrice Andries, Ross Service Station, Cirkel Distributors, Windjammer International Hotel, Robin Hunte, Star Party Rental, HJTV, and A. Alphonso and Sons Mining.
Around the Web