Guyana Cricket Board (GCB) executives Friday evening launched the campaign of the national cricket team ahead of the Regional Super50 Championship which will be held in Guyana from October 18-29 in a small ceremony at the Georgetown Cricket Club (GCC) Pavilion, Bourda.
Master of Ceremony Terry Holder and Guyana cricket Board president Ramsey Ali both expressed confidence that Guyana would be able to make use of home advantage and win the tournament.
They also encouraged the population to get behind the team.
Ali thanked Digicel for sponsoring the national side stating that it has been a while since a corporate entity had fully sponsored the team in a regional competition.
Digicel's Chief Executive Officer (CEO) Gregory Dean explained why the company continues to support sports at all levels in Guyana.
"We see our investment in sports as a very important facet of what we stand for at Digicel," Dean said.
"The organization is already involved with cricket via the West Indies team, so it was not difficult to get involved with the Guyana side when solicited and I wish them luck in the competition," he added.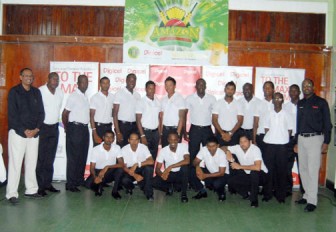 The biggest incentive thrown at the players on the night was by Leslie Ramalho of Noble House Seafoods.
Ramalho promised the side G$75,000 if they win all their preliminary round matches, G$150,000 if they qualify for and win their semi-final match and G$250,000 if they win the competition.
The last speaker  captain Assad Fudadin, thanked the sponsors and promised that the team would be giving 100% to make Guyana proud.
Holder mentioned that Banks DIH Limited and Gizmos and Gadgets could also be involved in sponsorship.
He said it was his hope that at the end of the tournament those present Friday night would be back at the same venue celebrating a Guyana team tournament victory.
Around the Web