An awards ceremony for fifty African women is slated for tonight at the National Cultural Centre and a unique but barely recognized musical group called the 'Buxton Fusion School of Music' will be part of the entertainment.
This group has been making a difference in the lives of young people, and The Scene caught up with founder Deo Persaud, of Mahaica, who shared the history of a group which has a place in his heart.
The group was formed in 2007 with a group of drummers from Buxton along with Deo and the leader Marlon Adams; they called themselves the 'Together Brothers.' These men dedicated themselves to strict rehearsals and being available for performances at Queh Quehs and other occasions in and around the village.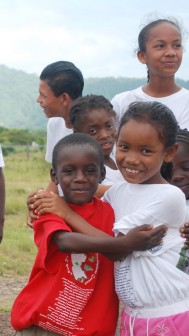 According to Deo, their first big performance was at Carifesta X, which was held in Guyana in the same year. By this time the Together Brothers were joined by drummers from Cove and John, and it was as a result of this that the first part of the group's final name emerged in the form of a question from his friend Dr Vibert Cambridge.
"It was during Carifesta that, as he was organizing us he said to me 'Deo, the fusion is ready now. Where is the Buxton Fusion?' and the name just stuck,' Deo recalled.
Grateful for the idea and having a sense of humour, Deo explained that as a joke he paid his friend $20 for the name. "I said 'Vibert, I normally pay for everything that is given to me,'"  adding, "he knows my sense of humour and he knows that I believe in performing rights, so I gave him, and he took the joke with a big smile on his face."
School of music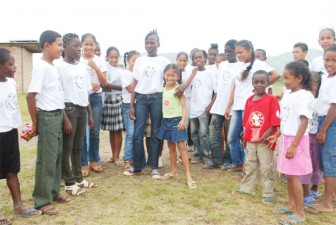 It was last year February however that the school officially began, and with its emergence, the 'School of Music' was combined with 'Buxton Fusion.' It at first started out with about four students, the youngest being two years old and the eldest fifteen. The numbers have grown since then and at present there are 25 in all, most of them females. "It's not just children and teens but adults as well, but it's very difficult because every time the adults come they want to be paid," he explained.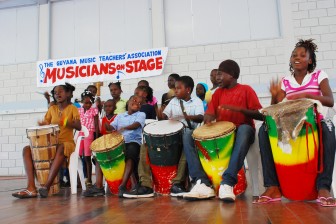 Of all the members, Deo praised the leader Marlon Adams, who he says "has the discipline that is required; he's on time, he's dedicated."
Deo explained that "the students come as they wish; they know we're there twice a week [Mondays and Fridays from 4pm to 7pm to accommodate school children] for rehearsals." The recruitment of new students is done through assessment; "they would come in and we'd quickly assess them and tell them to come to rehearsals and they do."
When the school began, during its first performance they were visited by Andaiye from the Guyana Red Thread, who "came to see the children."  Since then, Deo said that the group has been making remarkable progress in terms of performances at ceremonies like Walter Rodney's Commemoration (an event they take part in annually), Independence Eve shows (which they did twice), and the most spectacular and awe inspiring yet for them, a trip to Annai  in the North Rupununi.
'Projecting rhythm'
The main aim of the group, Deo explained, is projecting rhythm.
"Drumming," he said, "is the basic structure. But it's not just people playing drums, it's playing it like an instrument."
The instruments used by members during their performances and on the whole, apart from the drums, are percussion instruments like shak-shaks, bells, triangles, and most importantly voices ( they sing and drum at the same time).  "At one time," he continued, "you will have fifteen children drumming and singing together, and it's something that Guyana needs to see a bit more of."
As one would guess, most of the songs are traditional folk songs, "where it was the drums, your hands and your voices." Deo noted that while the school is 100% African, they can fuse with almost any other cultural genre, "whether it's with a solo artiste or tassa drummers."
Though the members of the group do no dancing, the founder explained that they are fortunate enough to have the National Dance Company and other dance companies to dance for them.
"So whenever we perform they dance – for example at the Independence show."
Drive
So, where does the founder get his drive for music from?
He says: "I come from a musical family; my sister was Shanta, the dancer who died in 1958, and it's from her that I caught the bug. She was one of what they called the pivotal points of dance in Guyana. After two performances at an Indian fair, she died a week later in an accident and I realized the she really loved music."
Although his first love is music, Deo divulged that he also came from a medical background.
However, even that could not curb his appetite for music, as living in England for 39 years, he spent most of his time moving around, hanging out and practising music with different African drummers.
"Twenty-nine of those years were spent moving around African drummers, master drummers from Ghana, Nigeria, South Africa, Sierra Leone. They all used to come by my house and practise (in Brixton, London)," he said.
Out of that about six different African bands were spawned, "but the main leaders of the band used to come home by me and play and work out." As time went by, however, and with his own band, Deo had to decide whether he had a day job or whether he played music, "and a poet told me to stick to my day job. But the music is still there and the ability to coordinate the drumming, I mean if we had saxophones and keyboards and pans and so forth, we'd be way ahead."
'A handful'
It is Deo who is behind everything during rehearsals in terms of playing quality, assessment of students, and most importantly discipline, which the founder is very strict about. "When I first met them [some of the teens] prior to the school's starting, they were really a handful, but now they're getting better and understanding themselves more, they have a kind of a direction in their lives," he explained.
"The school belongs to them, Deo said, "they make all the decisions. I will tell them so and so forth is happening and they will decide how they want it to go, what songs they're gonna do, and what food they want afterwards." In addition to this, all the proceeds from the shows they are paid to perform at, go to the children: "…every penny, I don't take anything from them… people pay us to perform, for example [at] the Indepen-dence celebrations, etc; they pay us and all the money goes to the children."
This, however, does not detract from the fact that there is a strain on the group's finances, as Deo explained that every time they meet for rehearsals the children have to be fed. "Every one of them have to be fed after classes and this is sponsored only by me (self sponsorship per se), so sponsorship would be really welcomed by us. No matter the number of children, they all have to eat and this is all coming from my private funds."
"We don't do our own independent shows we just perform whenever we are called to by different organizations. The reason for not having our own private shows is that we don't have a fixed place," he said. So what they do instead to pass the time, is rehearse until they are called upon again. We don't actively go out looking, but people know us and then we get a call and we perform, and then its guava season again."
Annai
One of the best experiences the members of the band had was a trip to Annai. "We got invited to the Wildlife Festival in April, and it was fantastic," Deo said. There was a workshop with a combination of the children from the northern Rupununi [Makushis] and group members. "I did a lot of research on this [and it was discovered that] it was the first time [culturally] that Africans and Amerindians met up… even the one and two African Guyanese who are there said that in all their years there they've never seen it before. It was interesting; we had full house every night in a benab holding about 350 people, and when those kids from Buxton let loose on their drums and their singing you could've seen the awe on the faces of these Amerindians."
It was from this trip that a bicultural fusion emerged, as the Makushis got the opportunity to sing while the Buxtonians performed.
"At one time of the programme [the last night]," Deo said, "a group of Amerindians were singing in Makushi – they were in the benab and we were just chatting, and I asked them to sing what they're singing in their own language, which is absolutely beautiful, really, really beautiful. So when I heard these beautiful voices, the leader Marlon Adams was next to me, and I said 'what hand can we work?' and he said 'sweet hand,' which is a common normal pattern of music. [So] without a rehearsal we did it [put on a show]; the Amerindians singing and the Buxtonians drumming."
This trip not only brought the two peoples together in music, but there was also a bond among the youths, as those from the Buxton Fusion School of Music returned home with new friendship etched in their hearts.
"Annai was a really, really big break and we'd like to do it again. In fact we'd like to go back there [the children want to go back]. In fact I would really like for the Makushi people to come to Georgetown to record with the Buxton Fusion School of Music and to perform," the founder said.
He considered that it was indeed a true Guyanese style and a representation of our motto; not just one culture, but all the different cultures fused together as one in music.
One very memorable occasion that remains in the members' memories is their last night and performance in Annai. "We had to cut the show short because 'anta banta' – a trance-like spell that some persons fall under while listening to drums – was kicking in," Deo recalled.
"The drummers started first to go into their trance and then they accelerated the music – we're talking about 15 strong drummers – and the whole atmosphere under the benab was electrified. And then the people inside were in a stunned state (which happens with anta banta), and so I was told to cut it, because if we didn't it would've gotten out of hand and it would've been very hard to get them out of the trance."
The group also participated in last year's Mashramani celebrations, but this year they were unable to do so because of what Deo termed his political affiliations. He said he is associated with the Working People's Alliance (WPA) and as a result of this he does not think the group gets the bookings it deserves.
Ironically, in this the International Year for Peoples of African Descent (IPYAD)  moreso during this month, the Buxton Fusion School of Music has not been performing as much as it should have been. In fact, according to Deo, the group was given a last minute call at 1pm for the children to perform at this year's Emancipation celebrations in the National Park. There is some promise of activity on their part next month (Amerindian month), however, as the group has been invited to perform in Moruca.
Future
And plans for the future?
Well, Deo says the group has nothing concrete on its agenda, but two things are in mind: recording, which according to Deo "is the only salvation we have, but it costs about $1M" to do, and putting on a show at the Theatre Guild. With regard to the former, the founder explained that "we would like to make a CD, and the CD would have the pure tonality of the drums and the voices, and on another CD in the same package we intend to add on acoustic instruments (we're using no electronic instruments) like the steel pan, saxophone, trumpet, and keyboards.
The latter he said, will entail a storyline about Queh Queh, where the audience will be educated on the festival of sorts. He explained, however, that it costs about $300,000, "but that is something that we would really like to do."
Around the Web