It is now five days since the deadly events in Linden, in which three men were shot dead by the police during a day of community protest. The last time protestors were shot at and killed by police was sixty-four years ago, when sugar workers were cut down by colonial officers acting on behalf of the sugar planters who ruled Guyana in those days. In The West on Trial, Cheddi Jagan offered us the following analysis of what happened and what it showed about relations between the rulers and the ruled:
"Without consulting even their company-dominated Manpower Citizens Association, they (the sugar planters) changed the system of work from cut-and-drop to cut-and-load…this action led to a 4 ½ month strike in 8 sugar estates on the East Coast of Demerara with its main slogan: 'Sit and starve rather than work and starve.' The response of the ruling class was characteristic – the resort to force.
On June 16th, 1948, the police opened fire at the rear of the sugar factory at Pln. Enmore, killing 5 and injuring 12 persons. Thirty-year-old Lalla Bagi was shot in the back; nineteen-year-old Pooran had a bullet through his leg and a gaping 3-inch wound above his pelvis; Rambarran died from two bullet wounds in his leg; Dookhie died in hospital the same day; Harry died the next day from a spinal injury.
This whole sordid and tragic episode could have been avoided. But the plantocracy was contemptuous of the workers, whose lives were regarded as expendable."
Just last month, on June 16th 2012, many Guyanese, led by the PPP, rightly commemorated the Enmore martyrs, and their supreme sacrifice for the liberation of all Guyanese from colonial rule and arbitrary force.
But sixty-four years after Enmore, the PPP is in power in independent Guyana, and without Cheddi Jagan, who we believe would have fought against the degeneration that resulted in the police unleashing deadly violence on Lindeners on the evening of July 18th, 2012. As we all now know, on the first of five days of action organized by the people of Linden to protest steep increases in electricity rates imposed without consultation with residents and to bring attention to the economic realities their community faces, the police used teargas and shot into a crowd of hundreds of women, children and men amassed on and in the vicinity of the Wismar-Mckenzie bridge.
Three men were killed: 46-year old Allan Lewis; 18 year old Ron Somerset; and 18 year old Shemroy Bouyea. Another 20 women and men were sent to hospital nursing blunt trauma wounds and shooting injuries to the back, face, legs and chest: 34 year old Alice Shaw Barker; 47 year old Michael Roberts; 23 year old Hector Solomon; 33 year old Ulric Michael ; 56 year old Reuben Bowen; 38 year old Dexter Scotland; 52 year old Janice Burgan; 35 year old Yolanda Hinds; 45 year old Brian Charles; 26 year old Collis Duke; 35 year old Cleveland Barker; 25 year old Dwight Yaw; 39 year old Marlon Hartman; 24 year old Troy Nestor; 35 year old Jermaine Allicock; 39 year old Malim Spencer;  29 year old Shandra Lyte; 34 year old Andy Bobb Semple ; 24 year old Collin Adams; 21 year old Trelon Piggot. Two people are in critical condition. One woman was shot as she tried to rush young children to safety.
And in 2012 as in 1948, there is an attempt to whitewash the atrocity. Writing about the murder of the five Enmore workers in 1948 in his book, A History of Trade Unionism in Guyana, 1900 to 1961, Ashton Chase noted: "the police claimed justification for the firing on grounds that a riotous mob at about 10:30 a.m. on 'massacre day' rushed into the factory compound and right into the factory building itself, and were overpowering the police who felt compelled to open fire so as to save the valuable property of the factory from destruction or damage and to protect the lives of those engaged in work therein." In The West on Trial, Cheddi Jagan described official explanations of the Enmore murders that were circulated before the setting up of the Bolland Commission of Inquiry as follows: "…the government had whitewashed the shooting of workers at Pln. Enmore. The police, it said, had been attacked and had opened fire in self defence."
Today, in response to the murders of Allan Lewis, Ron Somerset and Shemroy Bouyea, and even as the government has agreed to a Commission of Inquiry into the Linden shootings, a news story in the July 19th issue of the state-owned Guyana Chronicle had this to say: "Kudos to our police which did their duty at great risk to the lives of ranks. You stood your grounds in the face of much provocation and danger and you did your duty to protect the peaceful citizens of Guyana and Guyanese once more say "thanks."
The commemoration of the martyrdom of Enmore workers in 1948 is a refusal to accept that the workers, not the police or the state of which the police are a part, were to blame for their own deaths.  So too, today, we must categorically reject the efforts to whitewash the use of deadly force against women, men and children at Linden.  Those responsible must be held accountable.
We must also reject the government's line that the opposition parties are to blame for the protests and the casualties of July 18th.  We must reject it whatever we think of the opposition parties because it is insulting to the people of Linden, a product of a political view disrespectful to "ordinary" people and an attempt to isolate Linden by making this into a party issue that can divide Guyanese. Linden has a proud history of self-organising. In the 1970s the Organisation of Working People, independently of party or trade unions that answered to the government of the day, organized bauxite workers and led many of the strikes that shut down the industry. Less well known is that Linden women have a history of organizing as mothers/carers, that housewives and children took to the streets in their thousands in 1983 at the height of the food rebellions, facing down riot police and forcing the release of twenty-four bauxite workers arrested for participating in a one-day-a-week strike. Both the OWP and the housewives allied with others across race and party and outside of Linden, most notably in the formation of the Sugar and Bauxite Workers Unity Committee.
Rising up against the electricity increases comes out of this proud history that holds many lessons for us today. In particular relation to women, what the history of their actions in 1983 shows us is that no mothers in Linden (or anywhere else) have to be led by political parties to protest: what leads them to protest is what they know from their daily lives – that the work of making ends meet is theirs, and that anything that increases that work is something that they must rise up against in defence of themselves, their children and their families.
The media, in their reporting and coverage of efforts to demonstrate solidarity with Linden, also have to do better. For the most part reports have focused attention on what either the government or political opposition are saying and doing. The protests in Georgetown on Thursday and Friday were organized by Red Thread to say what we have said before, that the struggle in Guyana is not about government and opposition parties. It is about we the people, starting with mothers and other carers, those who are always left to mourn their dead, comfort the ones left behind, and nurse the injured back to health .
Challenged about why we're organizing protests against the violence in Linden we point to the sign outside Red Thread's centre that reads "Solidarity with Linden mothers." We are in solidarity with all Linden; the banner says "mothers" because our starting point is always mothers and other carers, the foundation of the whole society and economy. It is what we said in the statement we issued after the 2008 Lusignan massacre, in which we called on Guyanese to begin with "those who continue to pay the highest price of all" and added, "It is time we learn to listen to the anguish of a mother's cries, to recognize that her grief knows no race, no politics, no camp, only unspeakable loss and love."
Violence of the powerful against those with less social power is always criminal and to be condemned – and there is too often no condemnation except when it directly concerns us or "our race". The tendency of too many of us to respond to injustice only in relation to race, not to race as it interacts with class, and gender, and other social relations, always works in the interest of those with more social power. It keeps us divided from each other, and makes us all losers in the end.
The violence unleashed on the protestors by the state on July 18, 2012 has carried Linden and the country beyond the question of electricity tariffs. Violence is not violence is not violence. Whether in 1948 or in 2012 the violence of the state must be seen for what it is. The violence of the colonial state in 1948 carried that struggle well beyond the issue of cut-and-load to the central issue of how we will organize to live. It fuelled the nationalist movement that began in the late 1940s, led by working people across race. The violence of the state in 2012 demands the same courage – that we stand up and answer the question: How will we organize to live?
This moment is about Linden but it is about more than Linden. As the placards held in the GT protests by women of different races proclaimed – in hope and determination –  "We are all Lindeners".
Comments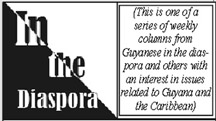 By D. Alissa Trotz Alissa Trotz is Editor of the Diaspora Column Last week, in meetings with lawmakers to discuss a bipartisan deal addressing immigrants from El Salvador, Haiti and several African nations, US president Donald Trump commented (in remarks later verified by several present) "Why are we having all these people from shithole countries come here?" He also specifically targeted Haitians, asking "Why do we want people from Haiti here?" Donald Trump's racist remarks add up to the view that Black and Brown people are not welcome in the United States.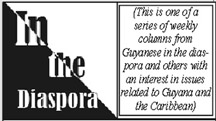 By Andaiye, Moses Bhagwan and Eusi Kwayana Sometimes in political life, movements that promise relief to the majority of the population fail to perform and are left to flounder and crash.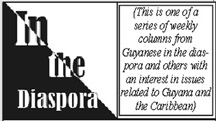 Every time we impose our will on another, it is an act of violence –Mohandas Karamchand (Mahatma) Gandhi By The Caribbean Voice The Caribbean Voice is a New York-based NGO that has been involved in social activism since its launch in 1998 The 16 Days of Activism Against Gender-Based Violence, a global campaign from 25 November through 10 December, took place this year against the backdrop of an unprecedented global outcry.

By Frank BirbalSingh Frank Birbalsingh is Professor Emeritus of English, York University.  Harold Drayton's extensive memoir An Accidental Life, published by Hansib Publications Ltd.

By Joy Marcus, Wintress White, Vanessa Ross, Susan Collymore, Halima Khan, Andaiye, Karen de Souza, Alissa Trotz For Red Thread Red Thread mourns the loss of our dear sister, friend, and colleague, Joycelyn Bacchus, who lost a courageous battle with breast cancer.