The United States Department of Transport has advised that it has suspended the operations EZjet Air Services Inc and as a result the Government of Guyana through the Guyana Civil Aviation Authority (GCAA) has followed suit.
Transport Minister Robeson Benn made the announcement this afternoon at a news conference, where he also blamed the media and, in particular, Kaieteur News for negatively reporting on the issues surrounding the airline and contributing to the creation of a public frenzy.
Benn said that the GCAA has suspended the airline's routes—Georgetown to New York; Georgetown to Toronto and Georgetown to Trinidad and Tobago—as a result of the company's issues with carrier Swift Air, whose planes EZjet wet leases, with respect to payments.
"We are seeking further details on this issue and the public will be advised shortly," Benn said.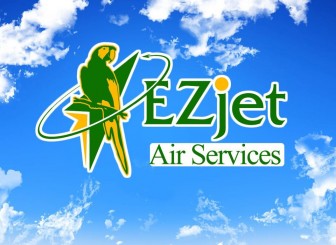 Benn said that acting Minister of Tourism, Industry and Commerce Irfaan Ali, after a meeting he had with President Donald Ramotar, has been instructed to undertake swift action to assist the affected passengers.
"We are disappointed and unhappy that our efforts to bring low cost operations [to create] a more competitive environment. It has not turned out as expected," he said. He added that the government had hoped that the low cost travel would have benefited tourism and led to lowering of fares.
The minister said that the calculations are ongoing to see how many passengers would be affected but he confirmed that ticket sales for the airline has ceased.
Two weeks ago, this newspaper reported that Sonny Ramdeo, the CEO of EZjet, had been sued in the United States by a former employer for allegedly embezzling monies entrusted to him.
He is facing a civil suit in the United States that his former employers filed, accusing him of devising a "sophisticated scheme of fraud and deception" to embezzle some US$5.4 million from them. Following the news of his being sued, Ramdeo stepped down from his post as Chief Executive Officer.
Reports out of the US state that Promise Healthcare and 11 of its hospitals brought the suit against Ramdeo, their former payroll manager who they hired eight years ago to manage the payroll for 3,500 employees in hospitals nationwide.
Named along with Ramdeo as plaintiffs in the suit are EZjet GT and PayServ Tax, a company that Ramdeo allegedly set up to commit the fraud. Shortly afterwards, acting CEO of the airline Rosalinda Rasul gave all assurances that the company had not owed any of its goods and service providers and that the court matter is a private one not expected to affect the operations of the airline.
EZjet today issued the following press release asking for patience and saying its looking for new investors:
PRESS RELEASE
EZjet Air Services has temporarily suspended its operations due to financial hardship created by its vendors and agents owing EZjet as well as some mismanagement.
The suspension of services comes after EZjet direct carrier Swift Air took off from Port of Spain, Trinidad on November 7th leaving passengers stranded. Swift Air's CEO, Jeff Conry used a maintenance issue to deplane all the passengers after filling up with fuel paid for by EZjet and taking off to Buffalo, NY with no advance notification to EZjet of Swift's intent to not to operate the flight or return the passengers.
Swift Air also forced EZjet to cancel its flight scheduled for 2nd & 3rd of November due to the fact that they abandoned passengers at the JFK airport and took another job flying for the
Boston Celtics while inconveniencing EZjet's passengers.
While Swift Air claims it has not been paid, EZjet believes Swift Air owes EZjet over US$800,000+ relating to various charges including using substitute aircraft when theirs was damaged, ground services, hotel stays for passengers, food and other amenities during delays cause by them.
While EZjet has invoiced Swift Air for reimbursement of these charges, Swift Air has not paid any of EZjet's invoices.
Swift Air replaced Dynamic Airways after Dynamic suspended its operations owing EZjet over US$1.5 million dollars which includes an US$800,000 cash security deposit. EZjet is in the process of seeking legal action against Dynamic Airways for recovery of the sums owing.
These outstanding balances coupled with the poor collection of ticket sales from the travel agencies has left EZjet in a financial strain. Our CEO states EZjet will of course do the right thing and refund our passengers monies paid unused portion of their tickets.
We apologize to our customers.
We ask the passengers to be patient with our staff and bear with us as we process the refunds.
EZjet is in the process of seeking new investors with the hopes of restarting its Guyana services.
The Ministry of Tourism later issued the following press release and said that a high-level Caribbean Airlines team is to visit Guyana today.
PRESS RELEASE
The Ministry of Tourism, Industry and Commerce (MINTIC) views with outmost regret and consternation the evident repercussions which will result following the closure of services of EzJet Airlines. Further the Ministry is painfully aware of the negative impact this development would have on passengers already booked on this service as well as progress within the Guyana Tourism Sector. The Ministry has officially requested a status report on the closure of the Airline operation and also details regarding measures that would be put in place immediately to refund stranded passengers and those already booked.
MINTIC has also contacted Chairman of Caribbean Airlines Limited (CAL) and has received positive feedback from that Airline thus triggering a visit to Guyana tomorrow of a high level delegation headed by CAL's Chairman and which will include Vice Chairman and acting CEO, to hold discussions with President Ramotar, Minister Irfaan Ali, Minister Robson Benn and other officials. This meeting will focus on finding solutions that would result in stability in airfares as well as availability of additional capacity to fill the void that would be created by the exit of EzJet.
It is estimated that between twenty five to thirty thousand passengers would have made reservations to travel with EzJet between November and December 2012. MINTIC wishes to assure all prospective passengers and stakeholders within the Tourism sector that it is cognizant of the importance of having available air travel capacity during the peak Christmas period. The Ministry is also conscious of the detrimental effect that a lack of adequate capacity can have on the Tourism sector as a whole. As such, MINTIC will continue to explore every available opportunity to ensure reliable and cost effective means of international travel is available to and from Guyana.
MINTIC will collaborate with our existing partner Caribbean Airlines Limited to facilitate practical and sustainable solutions to meet the impact anticipated as a result of the challenges presented by Ezjet's closure during this undoubtedly difficult time. The Ministry will also collaborate with the Ministry of Public Works to ensure that stern action is taken against EzJet in the protecting the interest of the consumer.
Around the Web