The Alliance For Change (AFC) and A Partnership for National Unity (APNU) are reporting that coming out of talks today held with the President at the Office of the President, Government is unwilling to budge on almost all of the issues that have been proposed and this will likely lead to the prosecution of cuts in the budget tomorrow.
They said that from all indications the Government is not serious about the proposals that both Opposition parties have submitted. These include the reduction of VAT, a reduction in the personal income tax, an increase in public assistance, the setting up of the Public Procurement Commission and others.
That the three parliamentary parties met today is a signal that the fissure as a result of last week's exclusion of the AFC has been mended and that the opposition is resolute about making those proposed cuts.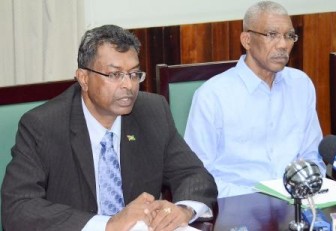 Prime Minister Sam Hinds in an announcement in Parliament today said that because of the meeting and the likelihood of a continuing engagement among the three parties, the consideration of the estimates for the Office of the President, the Office of the Prime Minister, and the Ministry of Finance has been postponed to tomorrow. Provisions for these offices and the ministry are the ones that the opposition intend to cut.
APNU and the AFC in a joint press conference held in one of the Committee Rooms of Parliament this afternoon said there has been no significant progress in what they described as an "inconclusive" meeting at OP. They expressed doubts about any improvements in the offing, with the engagement planned to continue until late this evening.
Around the Web