In a rotting Grove Squatting Area, East Bank Demerara shack, Rickford McKenzie spends most of his good days in a chair in front of the television. It has been just over two months since he lost his second leg.
McKenzie, 56, is a diabetic whose right leg is amputated mid-thigh, while his left leg is amputated just under the knee. After losing the first leg four years ago, he had learned to move around with a walking stick, but it is no use to him now. "I don't do nothing. I just sit down at home. I feel a way being at home all the time but wha ah gon do?" McKenzie told Stabroek News during a recent visit to his home.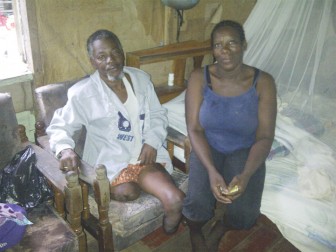 That question hangs over the heads of McKenzie and his wife, Collette Adams, in the small, one-room home they share with their son.
Adams, who always seems to be wearing a smile despite the hardships she has faced, built the house out of form boards when she decided to go out on her own. She said that it was meant to be temporary until she could have afforded to build a better structure, but years later it is still standing. "The roof bad. The whole house rotten," she said, adding that she is fearful that the roof will cave in and that the house will collapse. In addition to the shaky foundation, there is no running water in the house or toilet and bath.
Before being laid off two years ago, Adams spent 13 years working at GuySuCo. Since then, she sells occasionally to make ends meet but has been unable to find any long-term means of employment. With her husband's worsening condition, she has been forced to spend most of her time at the home caring for him. "[I] could get a lil job but he is the problem," she said, adding that she does not want to leave her husband alone in the house, fearing that in the event of an emergency he would be unable to help himself.
According to Adams, McKenzie has been battling Type Two diabetes for nearly 13 years. She said he is in dire need of a wheelchair so that he could move around with a little more comfort.
Now, she often has to fetch him to the outdoor toilet. "When he wants to go, I gotta hice he and carry he," she said.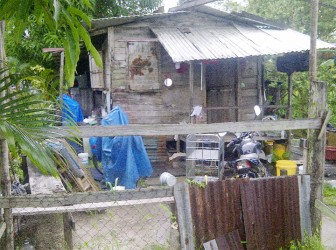 McKenzie is a retired from the city constabulary. He was in his late 40s when, after numerous health problems, he discovered he was diabetic. Both his mother and grandmother died from conditions associated with the disease. "You know that it is in your family, you should check and ensure that you eat right," said McKenzie, who believes that he would have discovered his condition earlier if he had paid more attention to his health.
Although he has been trying to live a normal life, McKenzie said that all he can do is watch television most days. Sometimes he would lie in bed and on good days he would sit in the chair. "I would glad to get a wheel," he said, while Adams added that it would make his life easier. She explained that they have gone to persons and various organisations for assistance to acquire a chair but with no luck.
Adams said that caring for her husband has been hard, both physically and financially. She said that because of the recent amputation, McKenzie has to visit the Grove Health Centre for his leg to be dressed. Although he is due to go three times a week, they sometimes only manage one trip since they don't always have the $800 return taxi fare. McKenzie sometimes attends the foot clinic at the Georgetown Hospital and the fare is $2,000 one way to get there. Only recently, the couple was advised that they could apply for public assistance and disability benefits from the National Insurance Scheme (NIS).
"It really rough," Adams said.
Previously, they had been depending on their eldest son, but he was knifed to death at Blue Mountain, Mazaruni River, in Region Seven last December. Jermaine McKenzie, called 'Royo,' was at the time working as a pork knocker to support his family. Police had said that he was among a group of persons drinking when an argument broke out and he was fatally stabbed by another man.
Adams said that she found it extremely hard to bury her first born. While she would like justice, she is unsure how much she can too. The death was particularly painful for her since she had not seen her son for over a year. He had been due to return home for Christmas.
Around the Web