Popular Indian playback singer Sonu Nigam delivered a stirring performance on the tarmac of the Guyana National Stadium Saturday night to a crowd estimated at thousands, belting out a potpourri of old and new songs.
The show was organised by the Guyana Hindu Dharmic Sabha and included a number of local performances. The crowd, most of which was seated, was well behaved, except for a few exceptions.
Taking the stage at around 20:00 hours, the singer, known for his playback roles in scores of Bollywood films, gave a marathon performance, delivering hit after hit. He was backed up by his band which gave of their best and a sound system that seemed to work flawlessly. Nigam's voice is paired with the lip movements of Bollywood actors such as Shah Rukh Khan, Bobby Deol, Salman Khan and Hrithik Roshan among others.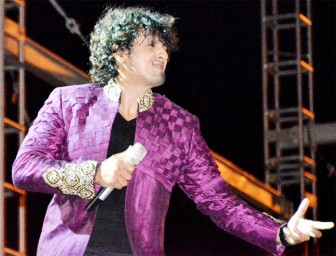 The performer gave the crowd what they wanted after persons in the crowd shouted the names of songs they loved, among them songs from the movie 'Soldier.' "Sing Neyo Neyo," persons in the crowd shouted in reference to a popular dance number from 'Soldier' entitled 'Tera Rang Balle Balle'. Nigam also belted out the hit 'Just Chill Chill' from the movie 'Maine Pyar Kyon Kiya'.
Towards the end of the show, Nigam gave a mesmerising performance of a tabla- accompanied number, the kind one would associate with Kathak dancing.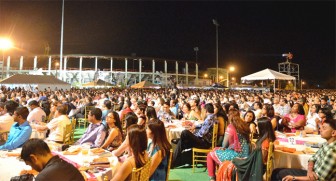 At one stage Nigam's vocals were indistinguishable from the pulsating percussion sounds of the tabla drums. All that was missing were Kathak dancers.
President Donald Ramotar and other dignitaries were treated front and centre to Nigam's wide ranging vocalic repertoire, aptly demonstrated as he held high pitches and kept going higher.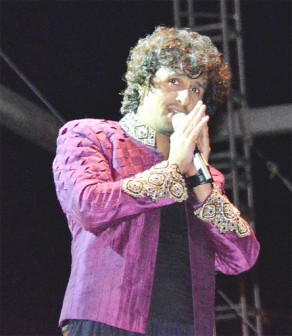 Stealing the show upon his arrival was definitely local television personality Joel Ghansham. He was decked out in a red sequinned get-up and had heads turning to him albeit momentarily before being reeled back in by Nigam's highly rated performance.
Dr. Vindhya Persaud of the Guyana Hindu Dharmic Sabha came to the stage to thank the performer and also to thank those who contributed to making the show a success. She then called up on stage President Ramotar and members of his entourage which included Prime Minister Sam Hinds and Minister of Finance Dr. Ashni Singh. With the delegates on stage, the playback singer belted out the time-honoured Kanchan chutney classic Khaisay Bani, much to the delight of the audience.
Nigam even invited Ramotar to sing something which did not work out as planned. Then, upon leaving the stage, the President indulged in some body movements, which Ghansham as a reality show judge might have taken serious note of.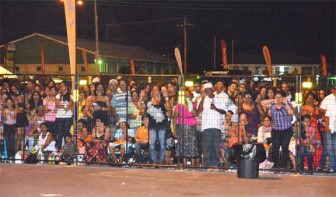 The last song Nigam performed was from the movie 'Kal Ho Naa Ho' which when translated means tomorrow might never come. He sang the song with the original beat and then he tuned it up by performing the same song using hard rock music to accompany his vocals. It's a kind of blend you needed to hear in order to comprehend how good it was. In other words, he rocked.
The show was advertised as a 'no alcohol allowed' and try as it might, this newspaper was unable to establish whether this was breached. Stabroek News however observed persons who were clearly inebriated and bent on having more fun than was permitted by ranks of the Guyana Police Force, who escorted them out and restricted them to beyond the perimeter fence.
The performance ended at minutes before midnight, with Nigam asking the audience to pray for his mother who is ill.
Around the Web