Ruqayyah Boyer won the Miss Guyana Universe crown on Saturday night, beating out ten other contestants and will represent Guyana at the Miss Universe Pageant in Santo Domingo on December 11.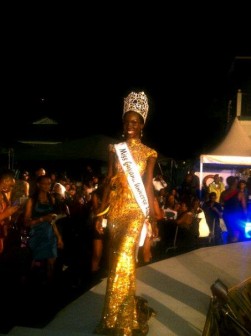 The contestants first appeared in the jaw dropping swim suit competition before modelling their evening gowns that were created by local fashion designers such as Olympia Small, Michelle Cole, Natasha Caldera and Randy Madray.
The night featured some top names of the best performers in the region. A fashion show by Sonia Noel, the Princess Hotel Russian Dancers, Calypsonian Baron, Guyanese Soca Queen Vanilla and Soca icon Kes graced the stage as the local pageant celebrated its 10th anniversary.
Special prizes were awarded to Niketa Barker for the Best Smile award and the Best Body and to Emani Bourne for Ms Congeniality.
The top 5 were then selected before Ms Guyana-Universe 2011 – Kara Lord made her final walk. In an oral presentation, she said she felt honoured to have represented Guyana on an international stage and thrilled to pass on her crown so that another beautiful young woman can have the unforgettable experience she did.
The top five were then questioned by the moderators before the announcement of Guyana's representative for the Ms Universe 2012 pageant. Faydeha King, Nikeshia Alexander, Sadhna Yunus and Niketa Barker were respectively the 4th, 3rd, 2nd, and 1st runner-ups.
Apart from representing Guyana in the Dominican Republic, Boyer also won, $400,000, a round trip to any Caribbean Airlines destination, a complete brand new wardrobe set that includes everything from swimsuits, evening gowns, hand bags and jewellery.
Some of the special audience members were President Ramotar and the First Lady, Ms United Nations 2012 – Soyini Fraser, Ms Guyana-Jamzone – Ayanna Harris, Ms India Worldwide – Alana Seebarran and Ms Universe 2011 – Leila Lopes.
Around the Web