(Jamaica Observer) Broadcaster Simon Mark Anthony Crosskill has a penchant for laughing a lot and making people laugh as well.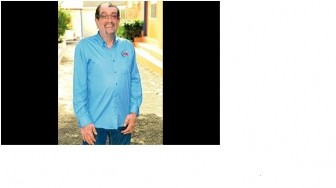 But while others might not have seen the events that unfolded in September 2004, while Hurricane Ivan was battering Jamaica, as comedic, Crosskill cracked up as he watched his colleagues scampering for cover while he, unwittingly, exposed himself to the danger of flying bullets.
The RJR Communications Group, where Crosskill worked until recently when he switched over to cable station, SportsMax, had sent the rounded media professional out onto the streets as part of its team covering the effects of the hurricane.
However, instead of reporting solely on the natural disaster, the crew found itself in imminent danger as their vehicle got stuck along the Palisadoes Road, close to the Harbour View roundabout.
"Our vehicle got stuck in the sand, when all the sand had washed up onto the road. We had gone out there to look at the thing and report on the whole effects of the hurricane," Crosskill recalled to the Jamaica Observer.
"The four-wheel-drive jeep got caught in the sand, so we couldn't go forward and couldn't go back and nobody could reach us for a little while to pull us out," he stated.
Conditions were slowly getting dark and the team waited anxiously on a rescue mission.
What happened next threw the team off guard and sent two crew members scurrying for cover, while Crosskill stood around having a good laugh without realising the thin line between life and death.
"We saw these headlights coming towards us from the roundabout side, not far from the quarry. So, with us being being stuck and this car coming along, we wanted to do two things — warn him not to come any further because he was going to get trapped in the sand, and the other was for him to come close enough to pull us out.
"But all of a sudden, we heard 'bow!', and I saw the two cameramen who were in the van with me dive. Now it's the last thing I am thinking that it is a gunshot that I heard. It was only when I saw the men diving and then one said 'shot a fire', that I realised what was happening.
Though uncertain as to why someone would be firing shots at them in the midst of the storm, the crew wasn't about to stay in the open and wait to find out. But Crosskill was slow to register that the guns were being directed at the TV crew.
"Then we heard 'bow!' again, and I am still standing up like an idiot looking around. Luckily, the car spun around and drove off. I think the driver felt that we were waiting there to rob him and I thought that he was saying to himself, 'If you guys are waiting out there to rob me, just know that I am going to pop a few at you when I reach down'," Crosskill stated.
Eventually RJR sent a much larger vehicle to rescue them, but Crosskill, upon reflection, shivered when he thought how close he had come to being wiped out.
"You think back at what the possibilities were. At the time, I didn't find it scary. I was laughing at the guys who literally dived and tried to get under the vehicle, but on reflection, it could have gone horribly wrong," he said.
The England-born Crosskill came to Jamaica for the first time as a five-year-old, where he attended Mona Primary, Jamaica College and Gaynstead High School before embarking on a trip back to the motherland, a country that then counted among its challenges fighting the Irish Republican Army, violent racial clashes and claims of police brutality against minorities.
Before going back though, he had fancied himself as a driver of merit and got his big break to turn that thought into reality, when at age 15 his friend threw him behind the wheel of his favourite car… without a driver's licence.
"I was given this opportunity to drive what is probably still one of my favourite cars, a Ford Mustang. I was not a driver, but this friend of mine said that I could drive it. He was in the car and we were driving down to the gates at UWI. I guess he felt that driving around UWI, you couldn't hit much because in those days you didn't have the amount of cars you have on the road now. Now, I am driving down the road heading towards the August Town Road and decided to step on the brakes, when I found out that the car had no brakes," Crosskill recounted.
The vehicle shot straight through the gates to the campus and into the middle of the daytime traffic with Crosskill being unable able to stop.
"I flew right out into the road in the middle of the day. If there were cars on the road like today I would have been in trouble of being seriously hurt. That was very scary, even when I look back at it, to me it was scarier than the gunshots," admitted Crosskill.
Much later, after Crosskill had resettled in England — where he owned and ran a dry-cleaning establishment at Bromley — he decided to switch to the broadcasting side of journalism and returned to Jamaica, where another road scare awaited him.
One of his favourite pastimes is travelling to rural Jamaica and seeing places of natural beauty. On one such trip, the car that he was driving picked up a skid on a normally busy roadway, and kept spinning around like a top until, fortunately, it came to a stop.
"The scariest one of all was coming through Discovery Bay heading toward Breezes hotel on that stretch of road. It was very, very smooth and I was driving this little Toyota, coming in from Montego Bay and I was doing probably about 60 (miles per hour), touched my brake and the car just started spinning."
It kept spinning in the road, making its way across the thoroughfare until it hit an embankment, where the vehicle's wheel broke off. Again, great fortune followed Crosskill because nothing was coming in the opposite direction at the time.
"That was the closest road shave that I have had. I could not imagine what would have happened had there been an oncoming vehicle, because that road is usually so busy," he said.
Coming from a family of outstanding individuals, which included his older brother, the former broadcasting guru Hugh Crosskill, Simon still does not take chances with his life and is usually quite keen and attentive to things happening around him.
Hugh Crosskill, 47, was shot dead by a security guard in what investigators later suggested was a case of mistaken identity on June 7, 2002.
Hugh, according to pastor of the Fellowship Tabernacle, Reverend Al Miller, was due to be baptised the day after he was killed.
In a strange series of events, two of the principals involved in that case died shortly after Hugh Crosskill.
The security guard who pulled the trigger, 41-year-old Carlton Parchment was found dead almost 14 weeks later, following a bout of severe depression. Those close to him said that he seldom ate or slept for weeks after the shooting.
The policeman who was assigned to investigate the shooting, Detective Corporal Joshua Graham, was murdered on the night of July 2 that same year as he waited for the traffic lights to change at the intersection of Olivier Road and Constant Spring roads in St Andrew.
The detective was shot 10 times by a group of men who were travelling behind the marked police vehicle that he was driving.
All through Simon Crosskill's over 25 collective years of living in England, at no time did he felt that his life was ever in danger.
"I have never had life threatening experiences in England, because Englishmen never usually messed around Jamaicans. Whether they are fair-skinned or not, they are not going to trouble a man who will say 'Whey yuh a do bwoy?'. They have heard it too many times," said Crosskill, who worked with his father-in-law in the chemical business when he returned to Jamaica for a second time, before venturing in media where he has spent 17 years so far.
Now settled in a different environment at SportsMax, where he, among other things, hosts the sports discussion programme, the Sports Zone, the father of Miss Jamaica World 2011-2012 Danielle Crosskill is, like a pleased animal, wallowing in his new role at the broadcasting organisation.
"It's different now," Crosskill told the Sunday Observer.
"On Smile Jamaica (a morning programme on Television Jamaica), I had the opportunity to voice my opinion on any number of issues. Coming back to sports now, the opinions are still the same but they are more confined to the sporting arena.
"It's a little difficult to readjust to, because you see so many things that happen here in Jamaica that you would normally comment on, rightly or wrongly… it's just your opinion, it's not factual and so it's a little difficult not being able to do that.
"The upshot is that SportsMax is a very progressive company. They have a lot of ideas, a lot of ambitions, they are young and so not locked into almost institutional media, so they have the ability to go off in different directions where they see fit and that itself is quite exciting.
"So… the prospects, even at my age, it's still exciting to see this company go to the next level. I never look forward to other than where I am," said Crosskill.
Comments

Legal Advisor to the Police, retired Justice of Appeal, Claudette Singh yesterday testified that there was insufficient evidence in the allegation made by Andriff Gillard of an alleged plot to assassinate President David Granger.

Today at 2 pm the 30 councillors of the Georgetown City Council will once again cast a vote on the future of metered parking in the city and several of them have told Stabroek News that they want to be sure their vote accurately represents a mandate from residents.

Crime Chief Wendell Blanhum yesterday made a written request to be recalled before the Commission of Inquiry (CoI) investigating the allegation of a plot to kill the President of Guyana to defend himself against "appalling" statements made by Assistant Commissioner of Police David Ramnarine.

Two men were yesterday remanded to prison by a city magistrate after they were charged with the fatal stabbing of Rawle Rodrigues which occurred in January.

Amid accusations that he has improperly tried to direct a constitutional commission, President David Granger said he had asked for a delay in police promotions to address complaints that have been made against law enforcers.