LOS ANGELES,  (Reuters) – British actor Richard Burton finally received a star on the Hollywood Walk of Fame next to that of his two-time wife, Elizabeth Taylor, on Friday, nearly 30 years after his death.
Welsh-born Burton, who died in 1984, received the career honor as part of the 50th anniversary of ancient Egypt movie drama "Cleopatra," in which he and co-star Taylor began their storied and tumultuous love affair.
The couple's adopted daughter, Maria Burton, accepted the honor of the iconic terrazzo and brass star along Hollywood Boulevard in the historical heart of the U.S. film industry.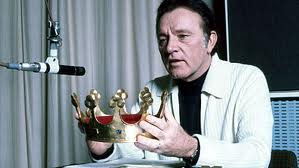 Burton was nominated for an Oscar seven times between 1953 and 1978 but never won the prize.
Actor and fellow Welshman Michael Sheen spoke at the unveiling and recalled the awe he felt when Burton and Taylor, one of Hollywood's most famous couples, visited the village where Sheen grew up.
"The same beach that I built my boyhood sand castles (on) and learned to flailingly swim – it was that same beach, that one legendary day, Richard Burton and Elizabeth Taylor descended from the heavens, like gods from Olympus, in a helicopter … and landed on those sands," Sheen said.
"They stepped out swathed in luxurious fur coats – it was the '70s – and walked among us for too short a time," he added.
Burton, whose star is the 2,941th installed, starred in 11 films with Taylor, including "Who's Afraid of Virginia Woolf?" in 1966 and "The Taming of the Shrew" in 1967.
The couple's scandalous love affair during 1964's "Cleopatra" was made into a U.S. television movie "Liz & Dick," starring Lindsay Lohan, last year.
Burton and Taylor wed for the first time in 1964 and divorced in 1974. They remarried the following year, but that marriage lasted just nine months.
Burton, who was born Richard Jenkins, was married five times and died in 1984 from a cerebral hemorrhage at age 58. Taylor, who married eight times, died in 2011 at age 79.
Comments

DENVER, (Reuters) – Taylor Swift won her trial against a Colorado radio personality yesterday after a jury found that the former DJ assaulted and battered the pop star by groping her bare bottom, and awarded her the symbolic $1 in damages she had sought.

(Reuters) The Indian government dismissed the controversial chief of its movie censorship panel on Friday, following months of criticism from Bollywood film-makers and fellow panelists angered by attempts to sanitise art and popular culture.

CROPREDY, England,  (Reuters) – Grammy award-winner Petula Clark sang her global hit "Down-town" about as far from "where the neon signs are pretty" as she could at the weekend — to thousands in a field in rural England.
(Reuters) – Bruce Springsteen is headed to Broadway for an eight-week solo theater run that he says will feature "just me, the guitar, the piano and the words and music." "Springsteen on Broadway" will start Oct.
VANCOUVER,  (Reuters) – "Deadpool" star Ryan Reynolds said yesterday that actors and crew were "heartbroken, shocked and devastated" at the death of a driver in a motorcycle stunt in Vancouver that went wrong.