A New Amsterdam, Berbice woman was yesterday hacked to death by her former partner, who died hours later from ingesting poison.
Dead are Bhanmattie Devi Bacchus, also known as 'Patricia,' 28, of Patrick Dam, Angoy's Avenue, New Amsterdam, and Narendra Thakoor, called 'Dado,' 44, and also of Angoy's Avenue, who had shared a common-law relationship for seven years.
The attack occurred at 9:15 am at the home the couple had shared during their relationship. Although they had separated, Bacchus met with Thakoor yesterday morning at his request, in an attempt to reconcile. But police said there was an argument and Thakoor attacked her with a cutlass, which he used to inflict chops to her neck and other parts of her body.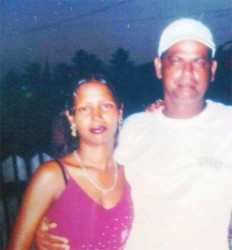 Afterward, Thakoor fled but police held him around 11am in the backdam area. They subsequently took him to the New Amsterdam Hospital, after being told that he had ingested poison. However, medical personnel at the hospital informed police that the man had not consumed any poison and as a result he was taken to the Central Police Station, police said. It was there several hours later that he began vomiting and under questioning he admitted that he had indeed ingested poison, they added. As a result, Thakoor was taken back to the hospital, where he succumbed at 6:40 pm last evening.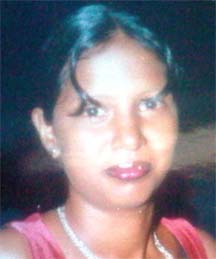 Stabroek News was told that Bacchus and Thakoor had been living together for seven years and he was the father of two of her five children. She, however, moved out during their separation.
Despite the situation, Thakoor sought to have her return and she visited yesterday to speak with him, but an argument arose, a neighbour said.
According to the neighbour, not long after, screams were heard coming from the house. When she rushed out of her home, she saw Bacchus jumping from the veranda of the house, which was estimated to be nine feet from the ground.
The woman further reported that when Bacchus landed, she hit her head and lost consciousness. At this point, she said Thakoor rushed towards Bacchus with the cutlass and started to wildly chop her about the body.  The eyewitness said when her husband and other neighbours tried to rescue Bacchus, Thakoor started to wave the cutlass at them in order to ward them off. But not long after, she added, he left, carrying a rope, a bottle of poisonous substance and the cutlass with him.
Meanwhile, Bacchus' mother, Bhaospatie Rampersaud, called 'Lolita,' 50, said her daughter had called her sometime around 8am and asked that she pick her up since she and her husband were having problems. The sobbing mother said that was the last time she spoke with her daughter. "Not long after meh received another call from the neighbours saying that she is dead," Rampersaud said.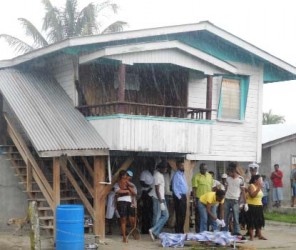 When she later turned up at the house, she saw her daughter covered up with a bed sheet lying on the ground. Thakoor, another neighbour told Stabroek News, was a very peaceful, hardworking and jovial person.
The neighbour also said that the man is a fisherman and is the father of six children; four from his legal marriage and two others from his common-law marriage.
Bacchus is survived by her mother, and three sisters, and her five children: three daughters and two sons.
There were several similar cases of murder/suicide last year.
Around the Web