The Guyana Telephone and Telegraph Company (GT&T) will soon be launching a "mobile money" service, which will allow its customers to use their phones for a wide range of financial services, including paying bills and transferring cash.
This was among the announcements made at a news conference yesterday by GT&T's acting Chief Financial Officer Sonita Jagan at a press conference at Cara Lodge yesterday.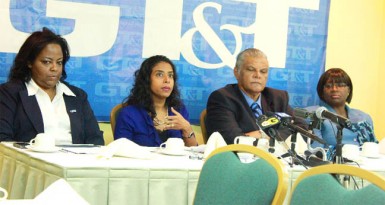 Jagan explained that the new system is expected to be implemented before April and agreements have already been made with utility companies GPL and GWI as well as IPED for mobile money payments.
"You got the technology now on the phone itself where your phone actually becomes your wallet. So, it's not only about having your phone with credit, as we like to say in Guyana, it's now where you can have cash. You can go to any of our agents and you can actually deposit cash in your phones," Jagan said pointing out that it was similar to having an automated teller machine (ATM) card.
This service will be most welcome to persons in the hinterland, who have difficulty getting money to their families on the coastland, Jagan opined.
"One of the big things is that you can actually do local money transfers and this is how it started because you had people working in the urban areas wanting to send money to their families in the rural areas. I think in Guyana's case it will be [the] opposite, where people in the gold mining areas will want to send money to the urban areas," she said.
"You can go and I guess change an ounce of gold with the person in Mahdia and put the money on your phone and just send that money to the phone number of your family," she explained.
Jagan underscored the importance of having a vigilant security system in place, saying that the subscriber would have the same protection as with an ATM card, with the set up of a PIN and other personal security information. If the phone is lost or stolen, owners can also call into GT&T to lock number.
The system will be tested with GT&T staffers to ensure its safety before it is offered to the public, Jagan said.
The company is also currently engaged in a pilot project to take fibre-optic high-speed data and phone services to Guyanese homes and businesses, Jagan announced.
She said GT&T will be using the Gigabit Passive Optical Network (GPON) and has begun rolling out the new technology in several areas along the West Bank of Demerara, including La Grange, La Retraite and Bagotville, which were previously served by the now obsolete Fixed Wireless Access service. This new development will be completed during the first quarter of this year.
"What we have decided to do is change out the entire system …and now have the ability to give that home extremely high-speed data," Jagan said, while explaining that the service was not only that of data provision but comes with a landline service and homes will be equipped with the equivalent of a modem to include two phone lines. Once the pilot is successful, the company will extend the coverage to the Numbers 1 and 2 Canal communities.
GT&T has approximately 270,000 mobile customers and nearly 160,000 landline subscribers.
Plans on stream for 2013 also include moving Tuschen, Essequibo and Berbice to the new technology. The decision to move the company in this direction was taken since its first choice of having wireless technology has been consistently delayed due to unavailability of spectrum. "I don't think we can continue waiting for spectrum to be provided to us. We had to sort of start looking at alternative ways of providing service and GPON is one of these alternatives," Jagan said.
However, once spectrum becomes available, the company will accordingly change gears to accommodate that type of data provision.
"We cannot hold back anymore" Jagan said as she explained plans to also bring the company's equipment up to date, changing their gateway to a more state-of-the-art Internet Protocol technology.
According to Jagan, the decision to choose the West Bank of Demerara was because both GT&T and the Guyana Power and Light Company (GPL) had installed fibre optic cables across the Demerara River for their respective utility purposes and GPL's has brought stable and improved power to the district.
Wi-Fi for UG
Meanwhile, Jagan also unveiled plans to take Wi-Fi service to the University of Guyana (UG) Turkeyen Campus for the new semester, with it possibly being extended to the nearby Cyril Potter College of Education (CPCE) at a subsidised cost.
"We're actually going to roll out, for the opening of the new university term on the 28th of January, an entire Wi-Fi high-speed system over the entire UG campus. It will probably extend to the borders of UG as well, so we're hoping Cyril Potter will also be covered," she said.
"It will be very affordable to students… we will subsidise it to the extent that we'll charge probably around $100 an hour," she added.
The service will in the future be extended to the University of Guyana's Tain Campus in Berbice, the Guyana National Stadium, and wherever the need is most seen by the company. "We are going to look to see what other sites… a possibility may be the Stabroek Market area, we're not sure. It comes down to looking at where you can securely put the nodes… and also get reliable power supply," she explained.
Also present at the conference were GT&T's acting Chief Executive Officer Joe Singh, Marketing Manager Fay Wharton and Director of Customer Service Pamela Briggs.
Around the Web