A 22-year-old Alberttown woman is now disfigured after she was doused with a noxious liquid suspected to be acid on Friday night at Cummings and Sixth streets, Alberttown by a man on a bicycle.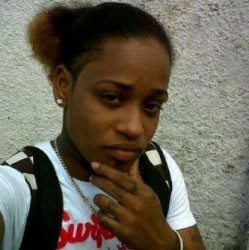 Sandy Jackman of Sixth Street, Alberttown, is now a patient of the Georgetown Public Hospital Female Ward where she is being treated for burns to her face and chest.
A man on a bicycle rode up to Jackman as she was walking along the street and threw the substance in her face, sources said.
The woman's mother, who vends on the street, said she was at her stand selling when her daughter came and collected some containers. She said that soon after Jackman left with the containers, she heard her screaming and saw her running back towards her crying for help. Jackman's mother said that based on her daughter's cries she knew it was something serious and she began running towards her only to see that she had been burnt in the face by the liquid that had been thrown on her.
Jackman was taken to the hospital and her mother said she sustained injuries to her left side face and chest. Doctors at the institution could not determine whether she had lost her eye to the attack as yet.
The woman said her daughter could not identify her attacker, because the incident occurred very fast. She was also not aware of Jackman having any problems with anyone.
Recently, 54-year-old Mala Persaud of Station Street, Kitty, was also doused with acid in an attack she believed was retaliation for speaking out against the constant noise nuisance from a bar in the residential area.
Persaud was taking her car out of the yard when a man came out of a taxi with an umbrella and tea cup in his hand. The man went to her shop and asked for cigarettes and she told him she didn't have, Persaud's attacker then told her to look at something and as she looked in his direction he threw the acid on her and escaped. The woman suffered burns to her face and chest as a result of the incident.
Around the Web