Head of the Presidential Secretariat, Dr Roger Luncheon at his weekly post-Cabinet press briefing today, said that the Venezuelan delegation that crossed into Eteringbang, Cuyuni/Mazaruni last month has offered an apology for the breach in the agreement under which they were allowed to enter the country.
He said, according to the Government Information Agency that the delegation, comprising research students, arrived in Guyana on August 31 and obtained the approval from the relevant authorities. However, the soldiers that were accompanying them were told that they could not disembark their boat and enter the country armed.
"Official sources from the Guyanese authority at the border was that the visitors sought and received permission to engage the members of the Guyanese communities on the border who assumedly, had some relationship with Venezuela whether biological or trading relationship," the HPS explained.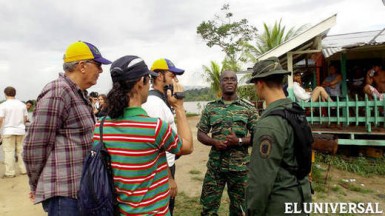 However, in relation to the soldiers, he said that they were not allowed and as such, their entry constituted a breach in the agreement, GINA related.
"They were not allowed was the official report provided by the Guyanese authorities, and it was as far as the authorities there were concerned, a breach of the agreement, the understanding under which they were allowed to enter Guyana, a breach once drawn to their attention they made the suitable apologies and corrected," Luncheon said. It was not clear from the GINA press release what form the apology took and who it was made to.
While Luncheon referred to the delegation as research students. The Venezuelan newspaper El Universal described them as members of a group seeking to publicize Caracas's claim to Essequibo.
The publication quoted Venezuelan Ricardo de Toma as saying: "We came here to carry out a civil exercise of sovereignty, but we do not understand what President (Nicolas) Maduro was doing there [in Guyana]." Maduro was on a visit to Guyana on the same day.
El Universal said de Toma and his colleagues were members of an organisation called 'My Map of Venezuela also Includes our Essequibo'.
According to the publication, de Toma said that in spite of the mining projects Guyana has been developing in the "Essequibo-disputed area with Venezuela," plus the granting of oil concessions in the Venezuelan Atlantic front, President Maduro "paid a visit (to Guyana) only to spread an ideological model."
Observers had said that under no circumstances should Venezuelan military personnel have been allowed to cross the Cuyuni into Guyana on a false pretext.
Around the Web