Eight months after a High Court jury found him not guilty of the 2010 murder of Charlestown resident Mark Caesar, Dexter Marshall mysteriously died on Tuesday night shortly after he began exhibiting very strange behaviour.
Relatives said yesterday that they want to have a post-mortem examination done as the 25-year- old man was healthy and appeared well up until a few days before his death.
When Stabroek News visited his home, relatives and friends had gathered and many expressed shock at his sudden passing.
A close relative struggled to fight back tears and told this newspaper that it was very heard for her to explain what happened before her eyes on Tuesday night because it was all very strange.
She recalled that Marshall started behaving strangely around 9 pm. "He wouldn't stay still. Just suh he start fuh go on bad and then he jump in de trench". The trench, the woman is referring to is the one which runs behind Marshall's home on Front Road, West Ruimveldt. It is weed infested.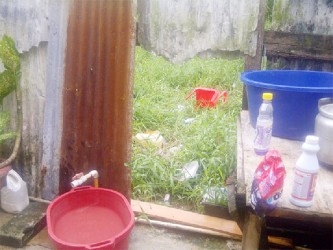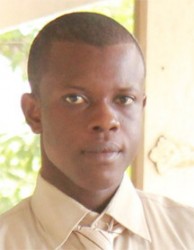 She recalled that several days earlier he had gone to the back of the yard and while pointing to a spot he said that somebody had thrown something there and was asking if anyone was seeing it. Because of the state of the trench, no one said anything.
The woman said that in getting to the trench on Tuesday night Marshall "run through the fence, cut the zinc in half and jump through". She said that after that the man crawled on the thick weeds and headed to the spot that he had pointed to days before. When Stabroek News was taken to the back of the house, parts of the weed infested trench were flattened, a clear indication that someone or something heavy had been in there.
Based on what the woman said, Marshall made it almost to the other side of the trench before he was pulled out and taken into the house. "We put he fuh lie down and like he get block out but he wasn't responding so we rush he to the hospital. When we reach the doctor tell we how he dead lang". The woman estimated that they arrived at the Georgetown Hospital with Marshall sometime after 11 pm.
She said that at no time did the young man complain to them that he was unwell or anything was troubling him. She said that it was only following his death that persons came forward to say that sometimes when he was on the road he would be behaving crazily.
Relatives told this newspaper they want a post mortem done so that they can get some answers as to how he died. They noted though that they are unsure if this is possible because of his religious faith and due to the fact that he had to be buried within a specific time frame.
Around 7 pm on October 1, 2010, Caesar was standing alone at the corner of Broad and Adelaide streets – his usual liming spot – when he was shot at about 15 times.
"A light-coloured car come driving from St Stephen Street side… I couldn't see is who been in this car or how much of them but all I see is that they roll down the street [Broad Street] slow and then I hear the first bullet… is a man that been in de back seat been doing the shooting,", one man had told this newspaper.
The badly-wounded Caesar was left lying on the corner and his attackers escaped along Adelaide Street. Caesar reportedly sustained gunshot wounds to the head, hand, legs and other parts of the body.
Marshall was later arrested and charged with the killing.
Following a preliminary inquiry, he was committed to stand trial in the High Court. The High Court matter began in early February and despite the fact that an eyewitness had testified under oath that Marshall was one of the shooters, the jury returned a verdict of not guilty.
Around the Web