SANTIAGO,  (Reuters) – Hugo Chavez, Venezuela's cancer-stricken president, made his presence felt at a regional summit on Monday with a flowery letter from his sickbed in Cuba that was laced with literary references and calls for Latin American unity.
Chavez has not been seen in public since cancer surgery in Cuba in mid-December, missing his own inauguration for a new six-year term this month and fueling uncertainty over the illness jeopardizing his 14-year rule.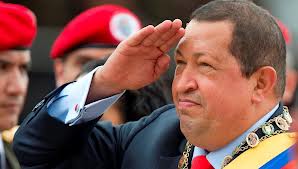 Vice President Nicolas Maduro, a former bus driver who Chavez has named as his preferred successor, read the 15-minute long, typed letter to heads of state gathered in Chile.
"I'm sorry I can't attend this meeting in Santiago de Chile, but as you all know, since December I've been battling once again for my health," read the letter, which was sprinkled with quotes from well-known Latin American writers including Chilean poet Pablo Neruda.
The absence of the loquacious leader was conspicuous at the CELAC-European Union summit in Chile, as many foreign leaders and diplomats fret about the stability of the OPEC nation.
Chavez's fiery leftist rhetoric often made headlines at regional gatherings. Five years ago at another summit in Chile, Spain's king famously told Chavez to "shut up."
The socialist president was a driving force behind the creation of the CELAC, or Community of Latin American and Caribbean States, which was established in 2011 in a drive to increase regional integration and counter U.S. influence in the hemisphere.
In Monday's letter, he called for even closer unity.
"Now more than ever, we can say that we have truly followed in the footsteps of our liberators."
Comments
CARACAS (Reuters) – Venezuela's opposition-controlled congress yesterday rejected the self-proclaimed lawmaking authority of a new legislative body elected last month at the behest of President Nicolas Maduro, widening the political divide in the crisis-hit country.
APUI, Brazil (Reuters) – The small town of Apui sits at the new frontline of Brazil's fight against advancing deforestation in the Amazon rainforest, where vast forest fires belch jet black smoke visible for miles and loggers denude the jungle.

MEXICO CITY,  (Reuters) – Mexico's foreign minister is in Havana hoping to persuade Cuba, one of Venezuela's top allies, to help resolve the tense political situation in the beleaguered South American nation, according to a senior Mexican official briefed about the trip.
CARACAS, (Reuters) – Venezuela's new legislative superbody yesterday gave itself the power to pass laws, superseding the opposition-led congress and fueling criticism by government adversaries that socialist President Nicolas Maduro is consolidating a dictatorship.

(Trinidad Express) The treatment of persons at the Immigration Detention Centre is heartbreaking and inhumane says Khafra Kambon, chairman of the Emancipation Support Group.