(Trinidad Guardian) T&T is looking to the diaspora market and to the Caricom market to boost its tourism industry, says Tourism Minister Stephen Cadiz. He said T&T has lost 60 per cent of the Caricom market. Cadiz was addressing members of the local, regional and international media at a news conference held yesterday at the Hyatt Regency, Port-of-Spain.
The news conference marked the start of the 14th Annual Caribbean Conference on Sustainable Tourism Development (STC-14) themed Keeping the Right Balance, Enhancing Destination Sustainability Through Products, Partnerships and Profitability. The conference is expected to explore the ways in which the Caribbean can enhance destination sustainability and competitiveness in the current global environment.
"Trinidad and Tobago have lost 60,000 Caricom travellers over five years. We have 100,000 Caricom travellers (who) come to T&T for whatever reason and that dropped off. I think one of the reasons for that is the cost of inter-island travel." Cadiz said there is need to find ways and means of bringing T&T back to "where we were before, getting back the 60,000, so that is just within the Caribbean."
Describing the diaspora market as a "huge" market he said there are millions of people living in Canada, the United Kingdom and United States and the ministry's target is to attract the children of the diaspora to return, he said it is a "demographic we have to start looking at very seriously."
Cadiz added that the ministry wants to designate 2014 as a "coming home year" for children of the diaspora and already Caribbean Airlines Limited (CAL) is achieving this, because 90 per cent of the passengers which fly Caribbean Airlines Ltd (CAL) comprise of the diaspora. Referring to the marketing budget for tourism, Cadiz said it has always been low but, the ministry is not daunted as a lot can be achieved with a limited budget. He anticipated that in the 2013/2014 budget the ministry would receive a greater budget.
Comments

CARACAS, (Reuters) – Venezuelan authorities yesterday arrested five members of a "terrorist cell" linked to self-proclaimed rogue Venezuelan helicopter pilot Oscar Perez, and killed several other militants during a shootout in a poor area outside Caracas.
BRUSSELS, (Reuters) – European Union officials have proposed removing eight jurisdictions from the blacklist of tax havens the bloc adopted in December, in what critics may see as a blow to its campaign against tax avoidance.
RIO DE JANEIRO (Reuters) – A Brazilian court yesterday ordered the world's largest iron ore miner Vale SA to repair environmental damages its operations caused in land belonging to a community of descendants of escaped slaves in northern Brazil.
(Trinidad Express) Three men were killed in Manzanilla, and Fyzabad and Arima on Saturday night.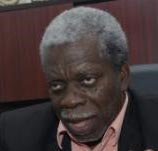 (Jamaica Gleaner) When president of the National Parent-Teacher Association of Jamaica Everton Hannam chose Fly Jamaica Airline to take him to Guyana for his annual end-of-year vacation, he could not guess the ordeal he would face.