(Trinidad Express) Following the unsolved murders of her husband and father-in- law, a mother now fears for her life and that of her three children.
Denise Annamunthodo said yesterday she received an anonymous phone call and two letters threatening kidnapping and murder.
Annamunthodo, 46, yesterday issued a desperate plea to National Security Minister Emmanuel George and all authorities to protect her and her children from harm.
Last November, her husband—Viren Annamunthodo, 57—was ambushed and stabbed to death as he exited his vehicle to open his business place—Unique Services Printery—in Pleasantville, San Fernando.
The killer fled and Annamunthodo dragged himself back into his vehicle and telephoned his wife, but he died shortly after she arrived and placed him in the back seat of her car.
The killing happened in the driveway of the family's business place in Cassia Avenue, Pleasantville. The Annamunthodos live a short distance away in Pleasantville Avenue.
Annamunthodo was the son of prominent San Fernando trade unionist and pamphleteer Walter Annamunthodo who was killed in 1992 while editing the book Atma Greet, a collection of Hindi bhajans. His battered body was found at his two-bedroom home in St Clements. An autopsy found he was hit on the head with a stone or blunt instrument and bled to death.
Viren Annamunthodo, father of two girls and a boy, had inherited the business from his late father.
Following his murder, his inheritance was bequeathed to his wife, Denise.
Speaking to the Express yesterday, Denise, also known as "Penny", said she and her children were prisoners to a life of fear as they cannot go anywhere or do anything without looking behind their backs.
She said on April 16 around 8.15 p.m. she received a call on her cellphone from a blocked number.
The male caller, she said, kept shouting, asking when he was getting the rest of his money for killing her husband last November.
"He kept asking me I want to know when I getting my money. I ask him what money you talking about and he kept telling me you know what money I talking about. He said look how long Viren dead since November and he didn't get the balance of his money," said Annamunthodo.
"He said the people who paid him to kill my husband only paid him half of the money and they said that I would pay the rest. He knows where my children go to school and the exact times of my whereabouts," said Annamunthodo.
She said she immediately called the police but there was no quick response. Through the assistance of a friend, Annamunthodo said on April 23 she went to Homicide Division, San Fernando where she made a full report of what happened to WPC O'Brian.
She said on April 25, while clearing the mail box of the business place, an employee found a plastic bag around 11 by 17 inches containing a sheet of paper which was neatly folded.
Annamunthodo said the bag was addressed "For Penny".
The letter, she said, stated that six months had passed since her husband was murdered and $20,000 was still owed for his killing.
An emotional Annamunthodo said the author of the letter stated that he knows where her children go to school and they will be kidnapped and murdered.
The letter, she added, also threatened that she could be "set up'' and that having employees drop her to work and take her home would not stop her murder.
She said the person who wrote the letter also informed her to expect a message soon as to where and when she can drop off the balance of the money.
She said further that letter had the words "You and Viren do deed" with the word deed heavily underlined and emboldened in the letter.
Annamunthodo said she does not know whether this meant property deed or a will as her husband had left all he owned to her.
She received another letter yesterday but she did not open it, having recognised the handwriting on the outside of the envelope.
Police visited the business place yesterday where they took the letter and also took photographs, she said.
The letter which was addressed "To Mrs Denise Annamunthodo" was not opened.
"My children and I cannot lead normal lives, we have to be on guard and it is very uncomfortable and horrific as someone is threatening to kill us and they have killed before," said Annamunthodo.
"Please Minister of National Security, anyone who can help us, please intervene and find out who is doing this. To date we still do not know who killed my husband or my father in law. Are they going to just be statistics? Will me and my children also be statistics?" she asked.
Annamunthodo said she believes the family murders are connected.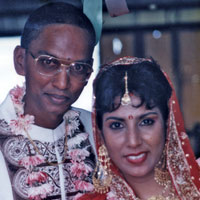 The image of her husband's bleeding body, she said, is engraved in her mind and it worries her that his killer was still walking around freely watching her movements and that of her children.
She recalled the last time she spoke to her husband in November last year after he was stabbed.
"I found him halfway on the floor and barely able to breathe. He did not have the strength to talk anymore after using his last ounce to call me…he was brutally stabbed with an ice pick in his vital organs–heart, lungs, chest and stomach–until internal bleeding caused his heart to stop. It seemed like just a few minutes ago that I had waved good-bye to him as he was taking our seven year old son to school for the last time," she said.
"When will the murders stop? When will my father-in law and husband's killers be brought to justice?
"I fear that the next step is to kidnap and murder me leaving my children as orphans," said Annamunthodo.
The Express last night confirmed that a report was made to the Homicide Division, Coffee Street, San Fernando. A policeman who answered the phone said the matter was being investigated.
Around the Web