(Trinidad Guardian) Former junior national security minister Collin Partap was convicted yesterday of failing to submit to a breathalyser test. Partap, MP for Cumuto/Manzanilla, was ordered to pay a TT$5,000 fine by Chief Magistrate Marcia Ayers-Caesar after she found him guilty of failing to provide a breath sample to a police officer on August 26 last year. Ayers-Caesar gave Partap one week to pay the fine or he will face nine months in prison.
The offence carries a maximum fine of TT$8,000 or up to three years in prison. Immediately after the ruling, Partap's legal team said they would appeal the decision. In passing sentence, Ayers-Caesar said a high fine was necessary to deter potential future offenders. She said because Partap was an MP, an attorney and a government minister at the time, he should have led by example and complied with the officers.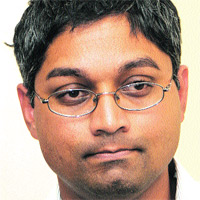 "I am satisfied that there was no excuse for not taking the test," Ayers-Caesar said. She also noted that by taking an oath of office as an MP and minister, Partap had sworn to uphold the laws of T&T. "It was open for him to comply and then complain. He was called upon to display a higher standard of behaviour than what was displayed in the evidence," Ayers-Caesar said. She said the State had proved its case against Partap and described the evidence of  the prosecution's witnesses as "credible, reliable and compelling."
Partap did not testify in his defence. In his mitigation plea, his lead attorney, Israel Khan, SC, asked Ayers-Caesar to discharge him without recording a conviction, according to the Summary Offences Act. Khan said that he had already "suffered immensely" and was humiliated by the incident. State prosecutor George Busby opposed the suggestion, saying: "It was a deliberate and premeditated act to continually refuse the test. The court cannot close its eyes to that."
During Partap's trial, which began in May, five police officers, including acting Police Commissioner Stephen Williams, testified against him. Four of the officers who arrested Partap said on the morning of the incident they saw him leaving the Zen Nightclub, Port-of-Spain, while drinking from a bottle of alcohol. They testified that Partap got into his SUV, turned on the flashing blue lights and drove away.
The police stopped him at the corner of Keate and Frederick Streets, told him they believed he was intoxicated and asked him to submit to a breathalyser test. The officers, Insp Neil John, PCs Terry Cooper and Vijay Omadath and breathalyser technician WPC Susan Daniel, testified that Partap repeatedly refused to take the test while saying he was waiting for Williams and his attorney to arrive.
Partap was arrested and taken to the Belmont Police Station. After speaking with Williams, he eventually submitted to the test and passed. Hours later, Partap was fired by Prime Minister Kamla Persad-Bissessar. His defence team alleged he refused the police request because he thought they were victimising him. They also claimed Partap could not have submitted to the test because the necessary equipment was not available on the scene.
Ayers-Caesar rejected their arguments and said it was reasonable for the police to take Partap to the nearest station, Belmont, for the test. She also dismissed the claims of victimisation.
Around the Web