(Trinidad Express) Heavy showers yesterday ushered in a freaky Friday for Diego Martin residents, who spent the early hours in a futile fight against floodwaters that ravaged their homes and belongings.
Over 100 homes were damaged.
Thundershowers began around midnight and pounded Diego Martin for over two hours, causing the river to break its banks, spewing silt and other debris onto the Diego Martin Highway. Residents experienced a similar scenario in August last year.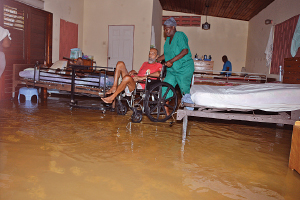 Those living along the river were trapped by the floodwaters that rose rapidly, ranging from several inches to almost five feet in some areas.
Some of the hardest hit places included Simon Street, Hillaire Street, Jean Avenue, Chuma Monka Avenue, Savannah, Green Hill Village, Tomato Trace North, Vanderpool Lane and St Lucien Road.
The Express arrived around 3 a.m. and by that time, while parts of the highway had already drained, with only a thick layer of silt as evidence of flooding, the crossroad at Sierra Leone was inundated by almost a foot of water, although some drivers still dared to cross.
Volunteer first responders from the Office of Disaster Preparedness and Management (ODPM) and the short wave radio communications organisation React were already on the scene, fielding calls from residents and directing other emergency crews, including the Fire Service, the Diego Martin Regional Corporation and the army to scenes of distress.
One of the first "rescue" operations was the evacuation of a home for the elderly, GH and DD's Sanctuary, at Chuma Monka Avenue that had been flooded. The residents were safely moved to higher ground within the compound.
Diego Martin Central MP Dr Amery Browne and members of his constituency office were out as soon as the rain began, Browne told the Express.
Regional corporation chairman Anthony Sammy, who arrived with Blue Range, Diego Martin, resident Justice Minister Emmanuel George, also said he and his crews were out as soon as the rain began, in anticipation of flooding.
The men spoke to the Express around 4 a.m., arriving with an emergency crew that had been called to assist with the evacuation.
Sanctuary manageress Gail Trancoso said she received a phone call around 1 a.m. from the night nurse, who was in distress about the rising waters. By the time she arrived from her home in Valsayn, she said, the water had already seeped into the building. She and her staff had already begun evacuating some of the 12 affected residents at the home by the time the first team arrived, but she was promised assistance to sanitise the area as soon as possible. That was imperative, she said, because there were some residents who had health concerns that required a disinfected environment.
"Right now, our priority is to make sure life and limb are safe, and it is very positive that there have been no reports to the contrary," Browne said.
Sammy said the army had been called in to help clear the highways in time for people to make it to work. George, using his connections from his previous role as minister of works and infrastructure said he had already contacted the Director of Highways to assist with the clean-up operations.
After leaving Sanctuary, the Express went with two emergency volun­teers from the area, Brinsley McKay and Colin Sampson, to some of the more distressed areas like Simon Street and Hillaire Street.  The floodwaters had mostly subsided from its peak of almost four feet, as evidenced by the water marks on walls and fences.
Residents waded through floodwaters flowing through their homes in the dark because there had been no electricity for some time since the rain began; there was also no water, one resident lamented, so they could not even begin washing out their compounds.
The flood waters had clearly surprised residents out of sleep.
Paul Alexander, who was clad only in a towel, told of how he grabbed his grandmother and carried her to the safety of a neighbour's home as her bed began to float away in the floodwaters.
Matthew John, shivered in his shorts as he recounted how he watched helplessly as his personal belongings, including several large appliances, were washed away.
On Hillaire Street, a wall collapsed, after being battered by floodwaters almost five feet high, demarcated by the watermarks on walls and debris caught in fences.
One man, Dominic Cumberbatch from Savannah #2, had to pound a hole in his wall to let the floodwaters drain from his living room. He used just a hammer because he couldn't find his chisel and the waters had destroyed most of his power tools, along with his children's school books and other gear.
Around the Web