(Trinidad Express) Ministry of Arts and Multiculturalism permanent secretary Desdra Bascombe and deputy permanent secretary Vel Lewis have been suspended with immediate effect following allegations of financial impropriety.
The two senior public officials received their suspension letters on Wednesday from the Public Service Commission (PSC) pending the outcome of an investigation surrounding transactions amounting to nearly TT$2 million submitted for payment for several paintings.
The Express learned that investigations are also to be conducted into an alleged conflict of interest relating to one art dealer and an artist who supplied some of the paintings.
On August 13 Lewis resigned as chairman of the National Trust citing increased responsibilities in his capacity as deputy permanent secretary at the ministry.
Contacted on the disciplinary action taken against Bascombe and Lewis yesterday, Director of Personnel Administration at the PSC Gloria Edwards-Joseph said: "I am not in a position to discuss this matter. There are a lot sensitivities involved. My position prevents me from having any discussion on the matter.  All I can say is that the PSC suspended and I just carried out instructions."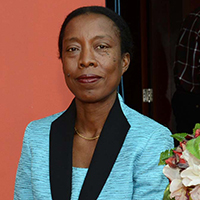 Auditor General Sharman Ottley, the Express learned, has been appointed to head the investigation following which a report will be submitted to the PSC and Head of the Public Service and permanent secretary to the Prime Minister Reynold Cooper.
The suspensions of Bascombe and Lewis were announced at the monthly permanent secretaries meeting held at Cabildo Chambers, Port of Spain on Thursday.
Cooper, who confirmed the suspension of both Bascombe and Lewis, told the Express yesterday: "It is a sad day when the permanent secretary of any ministry is sent on suspension. A matter like this doesn't only affect those involved but all permanent secretaries. Once a permanent secretary is suspended we all have to look at our performances. The matter is being investigated and I am unable to comment on the facts at this time because the report may come before me.
"What I would say is that permanent secretaries have to be very careful in what they are approving.  A permanent secretary is the accounting officer and they rely on staff members to give them correct information.
"A permanent secretary cannot be involved in every transaction, that is why there is support staff.  The permanent secretaries must be vigilant in terms of observing what is presented before them.
"They must ask questions and ensure that all the facts and information relating to the transaction are presented to approve any expenditure. In fact, they must ensure that staff is properly qualified and experienced. Permanent secretaries have to be able to rely on staff that is able to spot any irregularities within the information provided to them."
Contacted on his suspension yesterday, Lewis said: "The PSC is dealing with this matter. I do not want to breach the confidentiality of this matter. I cannot make a comment on it, unfortunately or fortunately, I do not know."
Attempts to contact Bascombe were unsuccessful yesterday.
Around the Web