Five agricultural groups from across the country yesterday received grant funding worth a total of $10.3M under the government's Rural Enterprise & Agricultural Development Project.
According to a press release from the Ministry of Agriculture, the groups are the Lower Akawini Farmers Association, Region Two; the Pomeroon Women Agro Processors Association, Region Two; the Central Mahaicony-Perth Village Farmers Association, Region Five; the Young Women's Christian Association, Litchfield, West Coast Berbice, Region Five and the Region 10 Farmers Association.
The money will be used for a variety of initiatives ranging from pumpkin and plantain farming to pork production. There will be 40 beneficiaries in the Region 10 project and between 12 to 18 in the other four projects.
The project is being run in collaboration with the Institute of Private Enterprise Development (IPED).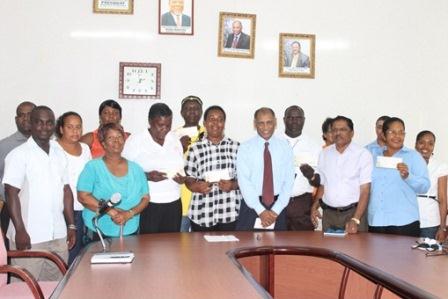 At the handing over ceremony at the Ministry of Agriculture, Ramesh Persaud, CEO IPED stressed the need for farmers to be united. He specifically touched on training for farmers and noted the IPED would not want farmers to simply form groups only to access finance from the Project.
Alli Baksh, Minister within the Ministry of Agriculture said that he is happy to see so many women involved in these groups and agriculture as a whole. Baksh, according to the release, stated that sustainability is the name of the game for these groups.
Dr. Leslie Ramsammy, Minister of Agriculture pointed out to the gathering that the "integration of small farmers into large scale agriculture is not just an option but an imperative and a priority."
READ is a project funded by Government of Guyana (GoG) and the International Fund for Agricultural Development (IFAD), as a loan/grant of US$6.9million. READ project will be implemented by the Agricultural Sector Development Unit (ASDU), Ministry of Agriculture and will receive direct supervision from IFAD. The project is being implemented in Regions 2, 3, 4, 5, 6 and 10.
Comments

A jet plane flies by the total solar eclipse in Guernsey, Wyoming U.S.

Superstar opener Chris Gayle … returns to the West Indies side for the first time in over two years.

The Church Street hotel and casino Hotelier Clifton Bacchus today filed a $2 billion lawsuit against the state-owned Guyana Chronicle newspaper following its publication of two recent articles which he has described as "highly defamatory." Guyana National Newspapers Limited, which is the publisher of the Guyana Chronicle, and the editor of the Guyana Chronicle were listed as the defendants in the suit, which was filed by a team of lawyers headed by former Attorney-General Anil Nandlall.

LONDON, (Reuters) – The gradual decline of West Indian cricket is hardly a new phenomenon but the latest capitulation of a once-dominant test match power has brought genuine expressions of sadness throughout the sport.

Eleven residents of the juvenile correctional centre at Onderneeming on the Essequibo Coast were apprehended between yesterday and this morning.