General Secretary of the People's National Con-gress Reform (PNCR), Oscar Clarke was rushed to the Georgetown Public Hospital Corporation (GPHC) last night after he sustained three gunshot wounds attempting to fend off home invaders.
The area outside the Accident and Emergency Unit of the Hospital was crowded with concerned citizens as well as several members of the PNCR who showed up to support Clarke, 74, and worried members of his family.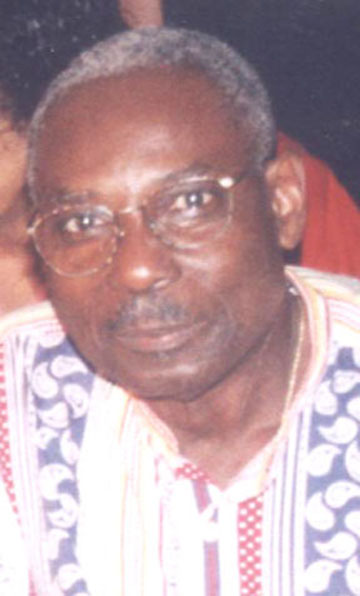 According to Linda Clarke, his wife, the ordeal began sometime after 8:00 pm. She explained that after leaving Congress Place, Clarke  had picked her up from Stone Avenue, before driving to their home in Plum Park, Sophia.
Linda said that once home, Clarke went into the premises first while she stayed behind and played with the dogs. She said that he used his keys to enter the house since she had left hers at home. She further stated that she called one of her female relatives who came to the bottom of the stairs and asked her "if the boys had come to collect the thing as yet." She was expecting four of her relatives.
At that very moment four men walked through the gate and approached Linda and her relative and the men were mistaken by the relative for the four persons she had been referring to earlier. However, Linda said that one of the men yelled "police." She added that when she took a closer look at the persons she realized that she knew none of them.
She said that when she attempted to inquire what they were there for one of the men grabbed her, told her to go inside the house, and then dealt her a slap across her face. Once inside, she said she was made to lie on the floor by one of the intruders who stood over her to ensure she didn't move. Linda said she heard the men continuously asking "weh de canister deh, weh it deh."  However the woman said that she was and still is oblivious to the "canister" which was being demanded by the men.
Linda said that while on the floor she heard sounds coming from the bedroom and realized that it was Clarke scuffling with two of the intruders. She said that she then heard two gunshots and then the sound of her husband screaming out for her. Linda said that while she was concerned for her husband's safety she dared not move, lest she suffer the same fate at the hands of the intruder standing watch above her.
She said, however, that after about five minutes had passed, she realized that things had quieted down, and that the man who was standing over her was no longer there. She added that no sounds were coming from the bedroom, where Clarke had been calling for her.
Linda said that she then stood up and rushed to the bedroom, only to find the door locked from the inside. Desperate to get to her husband, the woman said that she kicked the door open, and saw Clarke kneeling on the floor, in front of the door.  "I don't know if it was my strength that opened the door, or if he opened, because when I open it I saw him kneel down right in front of the door. He kept saying, I got shot, I got shot, I got shot," said Linda.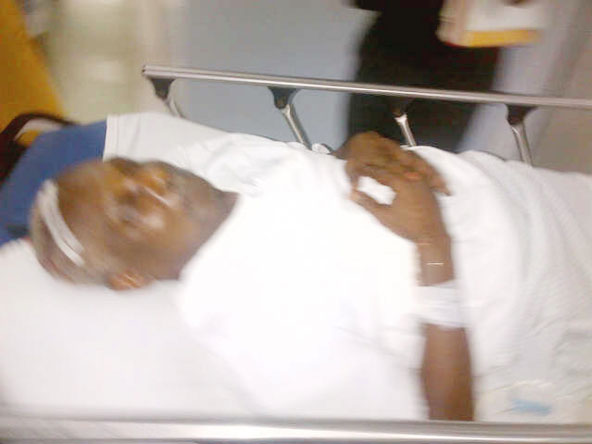 Linda would later find out that a fourth intruder had made his way to the top flat of the house and proceeded to rob her son, 38 year old Derwyn Lyte, and his wife, Apphia Lyte. She said that they relieved the couple of an undisclosed sum of money, as well as rings each of them was wearing. Linda said that two of her nieces were also at her residence during the robbery.
The General Secretary was subsequently rushed to the St Joseph Mercy Hospital, but was later transferred to the GPHC.
Once at the hospital, it was confirmed that the man had indeed sustained three gunshot wounds. Clarke was shot to his stomach, his hip, and his foot. An X-ray revealed that the bullet which penetrated his hip was still lodged, and doctors were trying to determine the best way to tackle this.
While at the hospital, PNCR Leader and Opposition Leader, Brigadier David Granger stated that he was very concerned about the shooting but that he was optimistic about Clarke's recovery.
Despite the amount of times he was shot, Linda said that the doctors had determined that none of the wounds was life threatening. She said that her husband was well enough to talk and interact with her.
As the news of the shooting spread, concerned citizens began to pour into the Hospital to wait for word on his condition. Also present were several PNCR members including Basil Williams, Volda Lawrence and Deborah Backer.
Clarke has served for many years as PNCR General Secretary and is a former High Commissioner to Zambia.
In a statement last night, the PNCR said "The General Secretary of the People's National Congress Reform, Mr. Oscar Clarke was, tonight at about 8:45 pm, attacked by bandits as he entered his home. Mr. Clarke has been admitted to the Georgetown Public Hospital Corporation (GPHC) and is currently in a stable condition.
"This incident is another example of the precarious crime situation which is facing Guyana at the moment."
Comments

Grace Mugabe   HARARE,  (Reuters) – Zimbabwe's first lady Grace Mugabe returned from South Africa early today, state media reported, after a 20-year-old model accused her of assault in an upmarket Johannesburg hotel room.

Michael Bhopaul, 16, doesn't know if he is this year's best performer at    the Caribbean Secondary Examination Certificate (CSEC) Examinations, but with preliminary results showing that he has obtained passes in 25 subjects, he will be hard to top.

Inmates at the Lusignan Prison turned over 33 improvised weapons yesterday morning to prison authorities, who say that they also apologised to the prison staff for the unrest at the facility on Friday night.

Well known Berbice attorney Chandra Sohan was arrested on Friday after he allegedly struck a pedestrian in a hit and run accident along the Williamsburg Public Road.

For a little more than an hour yesterday, the streets outside the Mackenzie Market rang with the voices of dozens of Linden residents who turned out to support a march against homosexuality.