PRAGUE, (Reuters) – Czech Prime Minister Petr Necas said today he had no intention of resigning from his post after a series of police raids on government offices threatened to expose a web of corruption.
Hundreds of officers from the organised crime unit took part in an operation that included sweeps of the government headquarters, the defence ministry, and other locations. One of Necas' closest aides, Jana Nagyova, was among those detained.
The biggest opposition party demanded Necas step down if the investigation uncovers corruption in his government. His position is already weak, with no stable majority in parliament.
But Necas told reporters: "I am personally convinced that I did not do anything dishonest and that my colleagues have not done anything dishonest either."
"Therefore I do not have any reason to consider a resignation and, thus, the fall of the government."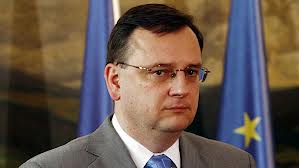 Necas' government has been on the verge of collapse several times since he was elected to the job in 2010.
The Czech Republic was a beacon of liberty in 1989 when former dissident Vaclav Havel led the "Velvet Revolution" against communist rule. But since then, successive governments have been dogged by accusations and rumours of corruption – though none has ever led to high-profile convictions.
Necas's cabinet has won praise for appointing prosecutors with a free hand to pursue corruption cases in the country, an EU member state of 10.5 million people, but his cabinet itself has been plagued by a series of scandals.
Refering to Nagyova's detention, Necas said: "I can only comment that my confidence in her has not declined and I have no reason to believe that she committed anything illegal."
Peter Honzejk, a commentator at the daily Hospodarske Noviny newspaper, said the raids were the most serious blow to Necas to date.
"I think Petr Necas cannot survive this," he said. "Everyone knows how close she (Nagyova) is to him."
Police carried out raids across the Czech capital, Prague. Documents were seized from city hall, officials said, and staff at Komercni bank said police searched safe deposit boxes there.
Necas himself was visited by the head of the police unit and two state attorneys, Interior Minister Jan Kubice told parliament.
Kubice said the visit was "in connection with a step in the criminal proceedings". He gave no further details.
A police spokesman said no charges had yet been filed but those detained were being questioned and more searches made of homes and other premises.
If the government falls, an early election may be called. Its term is scheduled to end next May.
"If it is confirmed that there has been connection of organised crime and the highest level of politics, there should be an early election," said Lubomir Zaoralek, deputy chief of the centre-left opposition Social Democrats.
The crown currency was down 0.3 percent for the day, a drop dealers said was in part because of uncertainty about the government's future.
Around the Web