GROS ISLET, St Lucia,  CMC – Defending champions Trinidad and Tobago cruised into the final of the Caribbean Twenty20 after nonchalantly dismissing a timid challenge from Barbados here last night.
Set a woefully inadequate target of 102 for victory at the Beausejour Cricket Stadium, T&T wobbled briefly before getting home by five wickets and finishing their preliminary round campaign unbeaten.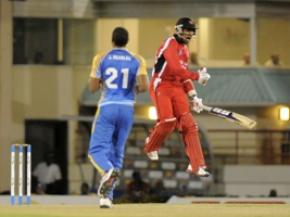 Opener Lendl Simmons top scored with 36 from 23 balls to set up Trinidad's victory, staging a 45-run, first wicket stand off 32 balls with rookie Evin Lewis who stroked 24 in his first match of the tournament.
While T&T finished atop the standings with 21 points, the defeat Barbados left Barbados with only a slim chance of reaching the playoffs with their third straight loss. They lie fourth on eight points with one game left against Windward Islands on Thursday.
The Windwards and Guyana, who clash in the final game of the preliminaries on Friday, also have eight points but have two games remaining.
Winning the toss and batting, Barbados showed no serious attacking intent and meandered painfully to 101 for six off their 20 overs, with all-rounder Ashley Nurse punching an unbeaten 24 down the order while opener Justin Brathwaite (22) and Shane Dowrich (21) chipped in with useful scores.
Medium pacer Rayad Emrit claimed two for 14 from four frugal overs, with leg-spinner Samuel Badree also strangling the Barbadian batsmen with four mean overs that yielded just 15 runs.
A reshuffled batting order failed to improve Barbados' start as makeshift opener Carlos Brathwaite (2) edged Badree behind in the second over with the score on four for one.
Dowrich, promoted to number three, joined Justin Brathwaite to add 39 for the second wicket, with both batsmen looking to play positively. The left-handed Brathwaite hit three fours and a six over long-on off Sunil Narine in the off-spinner's first over while Dowrich counted two fours.
However, the partnership consumed 46 deliveries and built pressure, resulting in Brathwaite's run out in the ninth over looking for a non-existent single and with just eight runs added, Dowrich followed when he squirted Narine to Darren Bravo at point.
Captain Dwayne Smith dithered 14 balls over seven before providing Emrit with his first wicket, adjudged lbw in the 15th over at 59 for four while the left-handed Kyle Mayers skied to wicketkeeper Denesh Ramdin three balls later to fall for four, with five runs added.
With Barbados floundering, Nurse came to his side's aid, hitting two fours and a six in a brisk 19-ball knock, eking precious runs out at the death.
Barbados were always up against it, however, once Simmons and Lewis ensured there was no early loss of wickets. Simmons played with abandon and his 23-ball knock was laced with four fours and two sixes while the left-handed Lewis hit three fours off 27 balls.
Simmons punched left-arm spinner Sulieman Benn through cover and followed up with a six over long on in the second over that cost 17 runs, and also tore into speedster Fidel Edwards in the next over, which leaked 15 runs.
He was marching along merrily when he upper cut seamer Carlos Brathwaite in the sixth over for Mayers to take a well judged running catch at third man.
Darren Bravo, with unbeaten half-centuries in his three previous innings, stroked two typically elegant cover-driven boundaries but mis-timed a pull to mid-on off medium pacer Smith in the eighth over to fall for nine at 65 for two.
Smith then created some controversy when he ran out Dwayne Bravo (3) on delivery as the all-rounder backed up too far. Three balls later, Lewis failed to beat Edwards' throw from backward point and was also run out attempting a quick single.
Barbados scented a collapse but T&T never appeared flustered, and captain Ramdin (10 not out) and Kieron Pollard (15) calmly carried the score to within one of the target before being separated.
BARBADOS
J Brathwaite run out 22
C Brathwaite c wkp Ramdin b Badree 2
+S Dowrich c DM Bravo b Narine 21
*D Smith lbw b Emrit 7
K Mayers c wkp Ramdin b Emrit 4
A Nurse not out 24
J Searles c Badree b DJ Bravo 11
S Brooks not out 5
Extras (lb3, w2) 5
TOTAL (6 wkts, 20 overs) 101
Did not bat: S Benn, T Best, F Edwards.
Fall of wickets: 1-4 (C Brathwaite, 1.2 overs), 2-43 (J Brathwaite, 9), 3-51 (Dowrich, 11.3), 4-59 (Smith, 14.1), 5-64 (Mayers, 14.4), 6-78 (Scantlebury-Searles, 17.2)
Bowling: Gabriel 3-0-13-0, Badree 4-0-15-1, Narine 4-0-22-1, DJ Bravo 4-0-30-1 (w2), Ottley 1-0-4-0, Emrit 4-0-14-2.
T&T
L Simmons c Mayers b C Brathwaite 36
E Lewis run out 24
DM Bravo c Best b Smith 9
DJ Bravo run out 3
*+D Ramdin not out 10
K Pollard c wkp Dowrich b Edwards 15
Y Ottley not out 0
Extras (w4, nb1) 5
TOTAL (5 wkts, 15.1 overs) 102
Did not bat: R Emrit, S Narine, S Badree, S Gabriel.
Fall of wickets: 1-45 (Simmons, 5.2 overs), 2-65 (DM Bravo, 8), 3-74 (DJ Bravo, 9.4), 4-77 (Lewis, 10.2), 5-100 (Pollard, 14.5)
Bowling: Edwards 4-0-27-1, Benn 1-0-17-0, C Brathwaite 2-0-14-1 (w1), Smith 3-0-14-1, Best 2-0-16-0 (w2, nb1), Nurse 1-0-10-0, Searles 2.1-1-4-0 (w1).
Result: T&T won by five wickets.
Points: T&T 4, Barbados 0.
Man-of-the-Match: Rayad Emrit.
Toss: Barbados.
Umpires: Patrick Gustard, Peter Nero; TV – Nigel Duguid.
Around the Web