As expected, Headquarters' Alita Moore sprinted away with the women's 100m final in a time of 12.2 seconds on the final day of the Guyana Police Force (GPF) annual Inter-Division track and field championship at the Police Sports Club ground, Eve Leary, yesterday.
Moore, who represented Guyana at this year's CARIFTA Games, won ahead of teammates, Nadine Rodrigues who clocked 12.9 seconds for second place and Leota Babb who finished third in 13.2 seconds.
'A' Division's Shawn Semple blasted out of the blocks ahead of Headquarters' Keith Roberts and never looked back to clock a winning 10.9 seconds in the men's 100m final. Roberts finished second in 11.2 seconds while Derwin Eastman was third in 11.3 seconds. Chavez Ageday, a possible prospect to medal was disqualified after a false start.
Sonia Herbert (Headquarters) clocked 13.1 seconds to win the women officer's 80m final while M. Davis of Headquarters recorded 13.8 seconds to win the Inspectors 100m final.
S. De Harte (12.8 seconds) of Country Division ran off with the male officer's 100m final ahead of C. Boyce of Headquarters who recorded 13.5 seconds with A. Sullivan of 'A' Division third in 13.5 seconds.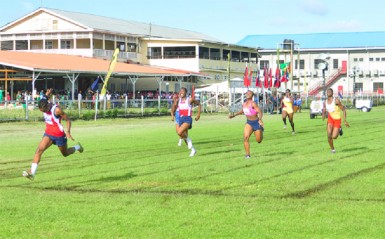 Trevor Benn retained the senior officer's 100m title clocking 11.5 seconds to win ahead of Troy Williams (11.6 seconds) and Q. Benn (12.4 seconds).
Moore returned later to win the women's 200m final, clocking 26.3 seconds to best Rodrigues and Shanna Thornhill who finished second and third respectively.
The men's 200m final saw Roberts winning in 23 seconds after Semple false started. Derwin Eastman clocked 23.7 seconds for
second place with Timothy Morrison crossing the finish line in 24 seconds flat for third place.
In the women's 1500m final 'A' Division finished 1-2 ahead of main rivals Headquarter with Janella Jonas winning the event in a time of five minutes and 44s seconds ahead of teammate Shion Boyer who clocked five minutes and 58 seconds and Tisha Grimes who clocked six minutes and four seconds.
'A' Division was unable to follow the pattern in the men's 1500m final as Headquarters athletes' Kevin Bayley and Nathaniel Giddings showed they meant business, finishing first and second respectively in four minutes, 18 seconds and four minutes, 21 seconds.
Jayon Johnson, who came second in the men's 800m final on Wednesday, settled for third place after overtaking Headquarters' Dennis Horatio around the final 250m. Johnson clocked four minutes and 25 seconds for third place.
CARIFTA Games gold and silver medalist, Cassey George won the women's 1500m invitational in five minutes and 13 seconds ahead of 2012 CARIFTA Games gold medalist Andrea Foster who clocked five minutes and 40 seconds and Cassie Kirton who finished in five minutes, 42 seconds.
Cleveland Thomas won the men's invitational 1500m in four minutes and 30 seconds ahead of Rondel Austin who clocked four minutes, 26 seconds and Calvin Thomas who finished third in five minutes, 16 seconds.
Meanwhile, the 59th edition of the annual athletics championship was officially opened yesterday afternoon after three days of competition.
Spectators witnessed the traditional March Past which saw the various divisions decked in their colourful track suits marching around the field before saluting Police Commissioner Leroy Brummell.
Tactical Services Unit (TSU) won the March Past ahead of the other five divisions.
Also present at the prestigious event was Home Affairs representative Angela Johnson as Home Affairs Minister Clement Rohee was unavailable.
Brummell in his speech said the… "Guyana Police Force, because of its history and strategic position, could contribute significantly to the development of track and field sports in this country."
The commissioner also said that the enhancement of athletic sports in the force can be beneficial to the organisation as well as individual members.
"Physically fit and healthy policemen and women are the ideal individuals that are required to be members of the Guyana Police Force," he opined.
Brummell, in his message, said it was very pleasing to know that despite the fact that the Police Force is tasked with Service and Protection to the citizens, they can find some time to showcase the rich talent which lies within the force adding that he was proud that the organisation can produce athletes and sportsmen.
Brummell said that the absence of athletes from other Caribbean law enforcement agencies will not reduce the level of competition.
"It is with great concern, our Caribbean Force is unable to celebrate with us at this time, but I am positive that their absence would not reduce the level of competition," he said.
Up to press time, after 32 finals, defending champions Headquarter led with 438 points. Previous leaders, 'A' Division are in second place with 416 points while the other divisions, Country and 'B' are on 176 points and 108 points respectively.
See tomorrow's edition for the latest results from the Police annual athletics championship.
Around the Web