Pepsi Sonics won the inaugural Georgetown Amateur Basketball Association (GABA)-sanctioned Yolo Entertainment Super Sevens tournament crushing Colts 'A' 52-28 at the Burnham Basketball Court on Sunday.
Collis Pluck led the way with 14 points while Jason Squires and Kervin Jackson contributed 13 and 10 points respectively in the huge win. Shelroy Thomas had a game-high 18 points in the loss as the rest of his team mates struggled against the stifling defence of the Sonics.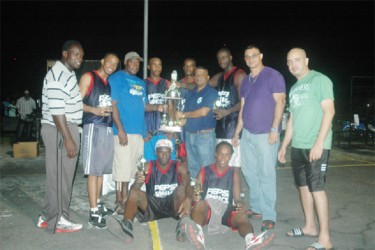 In the third place playoff, Buxton Lions defeated Melanie 43-29. Ewart Smith scored 18 points while Kerwin Dey added 10 points. Sherlon Legal was the principal scorer for Melanie with 14 points.
The earlier semi-final fixtures saw Pepsi Sonics crushing Buxton Lions 52-31. Squires registered 18 points while Pluck netted 12 points. Leading the East Coast side was Smith who netted 18 points.
In the second semi-final matchup, Colts defeated Melanie 37-22. Thomas and Ronrecio Kyte led Colts with 11 points apiece while Legal collected eight points for the losers. Prior to the commencement of the final, the GABA Executive team defeated the Sports Media 30-11 in an exhibition encounter.
Around the Web