(Reuters) – Comic actress Ann B. Davis, who played the devoted housekeeper Alice on the television sitcom "The Brady Bunch" and won two Emmy awards as the forever-single secretary Schultzy on "The Bob Cummings Show," died on Sunday at age 88.
Davis fell and hit her head on Saturday morning, CNN reported, citing a close friend of Davis, Bishop William Frey.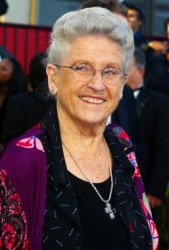 She suffered a subdural hematoma and never regained consciousness, Frey told CNN.
Davis' agent Robert Malcolm told The New York Times that Davis, who lived in San Antonio, Texas, had been in excellent health and had used a walker.
Davis' character helped keep a large, blended family functioning on "The Brady Bunch" by offering advice and wisecracks to busy parents and frantic kids, or simply by making meatloaf for eight. She was known for her light blue housekeeper's uniform with a white apron.
Behind the scenes, Davis provided a model of acting professionalism to the show's six child actors, who on occasion were driven more by hormones and mischief than reason.
The "Brady Bunch" was among the first U.S. television shows to focus on a non-traditional family. Robert Reed's character, architect Mike Brady, was a widowed father of three boys. Florence Henderson's character Carol Brady was a single mother – the show was vague as to why – who had three daughters. They get married in the first episode in September 1969.
The series made its debut amid cultural tumult in the United States but remained invariably cheery and avoided controversy during its five seasons on the ABC network. It ran during a TV era populated with caustic sitcoms such as "All in the Family," "Maude" and "Sanford and Son."
In 1994, Davis wrote of the wholesome "The Brady Bunch": "Wouldn't we all love to have belonged to a perfect family, with brothers and sisters to lean on and where every problem is solved in 23-1/2 minutes?"
After the cancellation of the original series in 1974, she appeared on later incarnations of the show, including "The Brady Bunch Variety Hour" (1976-1977), "The Brady Brides" (1981), "A Very Brady Christmas" (1988) and "The Bradys" (1990). She also made a cameo appearance in "The Brady Bunch Movie," a successful 1995 big-screen spoof of the series.
She wrote "Alice's Brady Bunch Cookbook" in 1994.
Davis already was a well-known TV actress when she landed the "Brady Bunch" role of Alice Nelson. She thrived as Charmaine "Schultzy" Schultz on "The Bob Cummings Show," which ran from 1955 to 1959.
Her character was a single secretary who had a crush on her boss – a bachelor photographer played by Cummings. She won Emmy awards for her role in 1958 and 1959 and was also nominated in 1956 and 1957.
Davis received a star on the Hollywood Walk of Fame in 1960 following the success of the series.
She was born in 1926 in Schenectady, New York, with a twin sister named Harriet. In the 1970s, she stepped away from show business to join a religious community, occasionally returning for roles in the various "Brady Bunch" projects. She never married.
Comments

DENVER, (Reuters) – Taylor Swift won her trial against a Colorado radio personality yesterday after a jury found that the former DJ assaulted and battered the pop star by groping her bare bottom, and awarded her the symbolic $1 in damages she had sought.

(Reuters) The Indian government dismissed the controversial chief of its movie censorship panel on Friday, following months of criticism from Bollywood film-makers and fellow panelists angered by attempts to sanitise art and popular culture.

CROPREDY, England,  (Reuters) – Grammy award-winner Petula Clark sang her global hit "Down-town" about as far from "where the neon signs are pretty" as she could at the weekend — to thousands in a field in rural England.
(Reuters) – Bruce Springsteen is headed to Broadway for an eight-week solo theater run that he says will feature "just me, the guitar, the piano and the words and music." "Springsteen on Broadway" will start Oct.
VANCOUVER,  (Reuters) – "Deadpool" star Ryan Reynolds said yesterday that actors and crew were "heartbroken, shocked and devastated" at the death of a driver in a motorcycle stunt in Vancouver that went wrong.