LONDON,  (Reuters) – British actor and film director Richard Attenborough died today at the age of 90, the BBC reported, citing his son.
One of Attenborough's greatest achievements was making the cinematic tribute to Mahatma Gandhi, for which he won an Oscar for best director. But he also won worldwide acting fame for roles such as a theme park owner in "Jurassic Park".
Richard Samuel Attenborough was born on August 29, 1923 in Cambridge, England. Knighted in 1976 and made a baron in June 1993, he was the elder brother of naturalist and broadcaster David Attenborough.
His father Frederick was a university professor, and his mother marched behind a banner denouncing Spanish dictator General Franco and helped care for Spanish Civil War refugees.
Attenborough, who longed to act from the age of four, won a scholarship to the Royal Academy of Dramatic Art in 1941. That year he made his stage debut in London's West End and in 1942 played his first film part in Noel Coward's ""In Which We Serve."
He later joined the Royal Air Force, qualifying as a pilot, and in 1944 volunteered for a unit filming over Germany.
Attenborough played underdogs and misfits in a string of character roles after World War Two, notably "Brighton Rock", "Seance on a Wet Afternoon" and "10 Rillington Place".
A short, round-faced man, he went on to have a long track record in the British theatre and film industry.
His fifth film as a director, ""Gandhi" established him as one of Britain's best-known cinema personalities and won him a string of international awards. The $22-million epic came out in 1982 and scooped eight Hollywood Oscars, including best director – a record for a British film.
He was also a shrewd businessman with interests in commercial radio and television in Britain, and a tireless worker for numerous charities. Part of his share of the profits from "Gandhi" went to organisations like the Save the Children Fund and Gandhi's own ashrams, or alms houses, in India.
Attenborough suffered a stroke in 2008 and was confined to a wheelchair. He had been living in a care home for those in the theatrical profession with his wife, actress Sheila Sim.
His agent could not immediately be reached for comment. The BBC reported that his family was expected to make a full statement on Monday.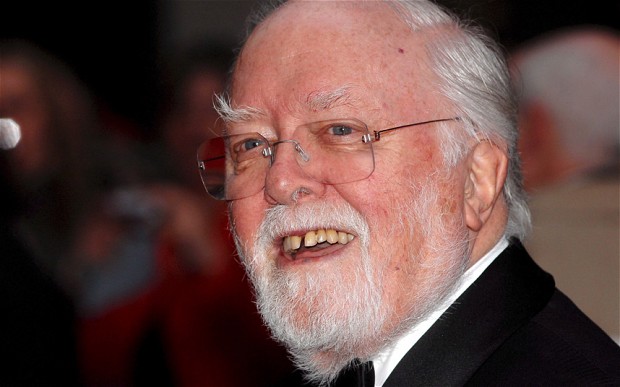 Comments

DENVER, (Reuters) – Taylor Swift won her trial against a Colorado radio personality yesterday after a jury found that the former DJ assaulted and battered the pop star by groping her bare bottom, and awarded her the symbolic $1 in damages she had sought.

(Reuters) The Indian government dismissed the controversial chief of its movie censorship panel on Friday, following months of criticism from Bollywood film-makers and fellow panelists angered by attempts to sanitise art and popular culture.

CROPREDY, England,  (Reuters) – Grammy award-winner Petula Clark sang her global hit "Down-town" about as far from "where the neon signs are pretty" as she could at the weekend — to thousands in a field in rural England.
(Reuters) – Bruce Springsteen is headed to Broadway for an eight-week solo theater run that he says will feature "just me, the guitar, the piano and the words and music." "Springsteen on Broadway" will start Oct.
VANCOUVER,  (Reuters) – "Deadpool" star Ryan Reynolds said yesterday that actors and crew were "heartbroken, shocked and devastated" at the death of a driver in a motorcycle stunt in Vancouver that went wrong.