The Princess Hotel & Casino is being rebranded under international hotel chain Ramada and its management plans on investing over US$5M on renovations as it aims to attract more international travellers into Guyana for tourism and business.
The hotel, which will be renamed Ramada George-town Princess, expects to gain its investment back in approximately five years, General Manager Jay Cunyet Dalcan told a press conference yesterday at the hotel's boardroom.
Since 1990, Ramada has been part of the Wyndham Hotel Group, which has approximately 7,440 hotels and over 638,300 rooms in 68 countries under 15 hotel brands.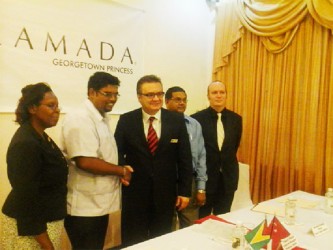 The Princess Group in 2008 acquired the hotel after it had been developed at a total cost of US$12M by Omprakash 'Buddy' Shivraj for the 2007 World Cup Cricket. The group acquired the hotel for US$15M and had planned to invest US$10M in upgrades. It has 199 rooms including presidential suites and executive/VIP rooms. More recently, the Group invested over US$2M into developing the hotel's entertainment, which now includes two state-of-the-art movie theatres, a nightclub and a children's fun park.
Dalcan explained that the new franchise contract between Princess Hotel and Ramada will allow for the current management of the hotel to remain the same. He said Princess Hotel will be using Ramada's reservations to gain clients and the proceeds from the clients will be split between the two entities.
The agreement to have the Princess Hotel branded by Ramada, he said, was endorsed by the Govern-ment of Guyana through the ministries of Tourism and Finance and by the company President Sudi Ozkan and Chief Executive Officer Hamdi Karagozoglu.
The money invested will go towards the renovation and refurbishing of the hotel's rooms, pool, restaurants, lobby, ballroom, reception, showers and bathrooms among others. Its conference facilities are also to be upgraded to facilitate simultaneous translation in five different languages. A press release issued by the company also noted that the hotel would also be eco-friendly, in light of global warming. The solar water heating system is to replace the old electric water heaters in order to use renewable energy, while all rooms will be outfitted with energy saving systems as a conservation mechanism to eradicate electricity wastage.
Works are expected to last for approximately twelve months, according to Dalcan. He said building items to be used have been purchased from Guyana, Suriname, Trinidad and Tobago, China, USA and Turkey. He added that some of the building items purchased from abroad have already been shipped to Guyana. "This is an opportunity for us to join our sister hotels in Belize, Santo Domingo, Suriname etc, with the rebranding of the hotel. We will also attract and increase international travellers into Guyana for tourism or business purposes," Dalcan said.
 Occupancy
Asked about the hotel's current occupancy rate, Dalcan, after consulting with Minister of Tourism Irfaan Ali, estimated it to be 65%. Ali then stated that it is important to note that the estimated 65% occupancy rate covers both peak and off peak times. However, he said the tourism industry is aiming to convert the off peak seasons to semi-peak. He also noted the efforts of the Guyana Tourism Authority (GTA) and the Tourism and Hospitality Association of Guyana (THAG) to drive tourism traffic into Guyana. He also pointed to the upcoming Caribbean Premier League (CPL) games, which are expected to bring a large crowd to Guyana.
Ali pointed out that the Ministry of Tourism is willing to help with the Princess/Ramada venture in any way possible. According to him, Ramada is one of the most prominent hotel names overseas and he added that it brings a level of service that is second to none and the most dynamic and extensive marketing programme. "It brings the opportunity of ensuring that Princess ups its game and provide increased services and facilities," he said.
Ali noted that 85% of business travellers and 76% of the leisure travellers prefer branded hotels and against this background he felt that branded hotels present a niche market to Guyana. He said, nevertheless, smaller hotels will not be neglected because they will feed off possibilities the larger hotels bring to the Guyanese market. He explained that because of the larger branded hotels, there will be higher tourism traffic into Guyana and the country will be much more visible on the international market.
Ali pointed out that in working directly with smaller hotels, the ministry has been helping to drive traffic, especially from Suriname, into Guyana over the last year. This venture, Ali said, has been very successful. "Some weekends we have over 120 Surinamese coming to tour Guyana and they would stay in Georgetown, Rupununi/Essequibo and Berbice, which helps to target the market for smaller hotels," he added.
Around the Web