Trinidad Express) A Couva woman who was a State witness in a court case was shot and killed on the street yesterday, weeks after she received death threats not to testify.
Stacy Roopan, 25, was shot dead at Isaiah Street as she walked towards a pre-school to pick up her three-year-old son.
Roopan's killing was recorded as the 50th person to be murdered this year.
She is the eighth woman to be killed this year. A police officer is a person of interest in the killing, according to investigators.
Roopan's father, Lutchman Roopan, said that in December, his daughter's car, a Nissan Sylphy, was broken into and her identification cards and other personal items were stolen.
A note was left in the vehicle, with a threat that she would be killed if she testified in a court matter.
Her father told the Express he last talked to his daughter around 1.25 p.m. at their home at Isaiah Street.
The man said he would usually pick up his grandson from the pre-school. However, he was not feeling well and his daughter said she would go.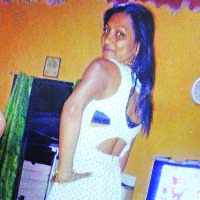 Roopan said he went into his bedroom and she left the house. He said within five minutes he heard several loud explosions.
The father said: "I told her husband that is not a fire-cracker, that is a gunshot. I told him to go and see what happened in the road."
Roopchan's husband found his wife's body roadside.
She had been shot at least six times, police said.
Police were yesterday searching for a white Nissan Tiida which they were told was seen speeding away from the crime scene.
In January another State witness, Ricaldo Sanchez, was also killed after receiving threats
Around the Web