(De Ware Tijd) PARAMARIBO – President Desi Bouterse has ordered an investigation to find out the real extent of the expenses made for Carifesta XI.
The Government Accounting Agency (CLAD) has been instructed to inspect the books of the hosting committee. This means that the festival, which was hosted last year in August, is not over yet. The authorities have asked creditors for a little more patience because the bills will only be paid after the investigation has been concluded.
De Ware Tijd learnt that the hosting committee still owes over SRD 14 million. Ivan Graanoogst, chair of the hosting committee, is happy with the investigation, arguing that it is six month overdue because now creditors will have to wait a little longer.  Bouterse had requested clarity in this matter at a meeting with his cabinet two weeks ago. The event had initially been budgeted for SRD 34 million, but the hosting committee managed to force expenses down to half the sum.
However, the real expenses soared way beyond the budget towards the initial estimate. After the event the committee held a presentation for the President and Vice President Robert Ameerali. Graanoogst understands the president's stance because the festival has cost way more than had been anticipated. Both Graanoogst and Culture director Stanley Sidoel had earlier cited reasons for the higher expenses; the event had been budgeted for 1,500 guests, but eventually the host had to find room for an additional 1,000, plus the Cuban delegation was flown in by charter. De Ware Tijd learnt from other sources that special demands by Haitian president Michel Martelly had weighed on the expenses. Graanoogst had proudly stated that Carifesta XI had placed Suriname on the map. But now, seven months after the event is over, the president wants to inspect the books.
Comments

CARACAS, (Reuters) – Venezuelan authorities yesterday arrested five members of a "terrorist cell" linked to self-proclaimed rogue Venezuelan helicopter pilot Oscar Perez, and killed several other militants during a shootout in a poor area outside Caracas.
BRUSSELS, (Reuters) – European Union officials have proposed removing eight jurisdictions from the blacklist of tax havens the bloc adopted in December, in what critics may see as a blow to its campaign against tax avoidance.
RIO DE JANEIRO (Reuters) – A Brazilian court yesterday ordered the world's largest iron ore miner Vale SA to repair environmental damages its operations caused in land belonging to a community of descendants of escaped slaves in northern Brazil.
(Trinidad Express) Three men were killed in Manzanilla, and Fyzabad and Arima on Saturday night.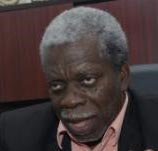 (Jamaica Gleaner) When president of the National Parent-Teacher Association of Jamaica Everton Hannam chose Fly Jamaica Airline to take him to Guyana for his annual end-of-year vacation, he could not guess the ordeal he would face.