(Trinidad Express) Sport Minister Anil Roberts did not confirm or deny yesterday that he was the man in the "ganja video" but blamed Opposition Leader Dr Keith Rowley for trying to bring him down.
He said he will not be smoked out by anyone.
TV6 News on Wednesday night aired a video clip which showed an individual  resembling a government minister and sounding like him unwrapping a cigarette, placing a quantity of marijuana inside the cigarette skin, and then rolling it all back together, all in the presence of a group of people, mainly comprising women in what looked like a hotel room.
The video went viral on social media.
At the post-Cabinet news conference yesterday at the Office of the Prime Minister, St Clair, the first question posed to ministers was whether the video was discussed at Cabinet.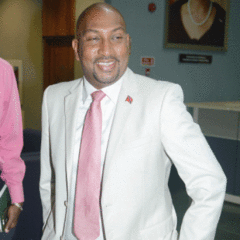 Communications Minister Vasant Bharath said it was "briefly" discussed and his ministry would issue a statement.
He also the advised media to try and catch Roberts when he was leaving the building to get a response.
While the post-Cabinet conference was in progress, media members had no choice but to leave as Roberts, just outside the briefing room, held an impromptu news conference of his own.
"I know you all have come here to talk about video, video and more video. Well let me tell you, and let me tell the nation, and especially Dr Keith Christopher Rowley, the minority leader of the PNM, no video, no music video, no video game or no voodoo could ever stop me from letting the population know that Dr Keith Rowley is the worse thing that could possibly happen to Trinidad and Tobago," he said.
"I was expecting something, I was expecting many things, now if this video is all they can do, well PNM you have to come better than that," he continued.
Roberts said eight weeks ago, he exposed in Parliament that Rowley, some 14 years ago, in April 2000, had an interest in the National Gas Company (NGC) WASA wastewater treatment plant as he had accompanied private investors to meet then minister Ganga Singh on the project.
In March this year, Rowley moved a private motion calling on the Prime Minister to halt the billion-dollar Beetham Wastewater plant project which was awarded to a consortium which included Super Industrial Services (SIS).
Roberts said he "embarrassed" Rowley in the Parliament and he was expecting some retaliation.
"I knew after destroying the minority leader of the PNM that there would be something coming and if the video is all that they have, let me tell you again, video nor voodoo could make me hush up or make me go anywhere," said Roberts.
He advised the media to go after Rowley instead and ask him who were the "big investors" who wanted to build the water waste treatment plant.
"Are they financing his (Rowley) campaign, you saw a PNM campaign where nobody knew where the money come from. Did it come from these investors, is he in their pocket, why is he attacking or trying to defame not only my character but others in this Government?" said Roberts.
He continued:  "When you ask me about the video, let me tell you what I see … what I do see in the video, Mr Speaker, I see hate, I see bitterness, I see vengeance, Mr Speaker, I see a raging bull…," he said.
"In that  video I see, and I repeat that no video, no video game, no music video could ever shirk me from the duty that I have to do. No voodoo shall hush me up or silence me, no tobacco, no hemp, no cow manure can ever smoke me out! Good afternoon, have a great day!"
Members of the media were all geared to ask Roberts questions when he just turned around and speedily walked away.
The media ran after him.
Approached near the security section and pressed with questions, Roberts said the PNM has started a dirty campaign and the video was evidence of it.
"Were you in the video Mr Roberts?"a reporter asked.
There was no response as Roberts walked away.
Around the Web