Dr Karen Cummings was sworn in as an APNU MP to replace Debra Backer this afternoon, while fellow coalition member Basil Williams was made Deputy Speaker.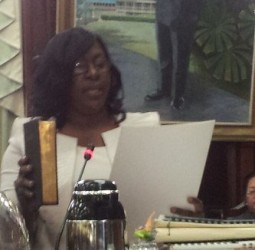 Since news of Backer's illness became public, A Partnership for National Unity (APNU) had said that Cummings was being considered as her replacement, but the coalition had refused to say they had settled on the doctor.
Speaker of the House Raphael Trotman told the National Assembly today that he sent a letter to the coalition requesting Backer's replacement after receiving the "sorrowful" news of her resignation.
He said the Guyana Elections Commission (Gecom) has since informed him that Cummings, wife of Peoples Progressive Party Civic (PPP/C) MP and University Lecturer Dr Emmanuel Cummings, has been identified as the coalition's candidate to replace Backer.
Opposition Leader David Granger, in welcoming Cummings, said that her experience in medicine and the work she has been doing in East Demerara has, and will continue to serve the coalition well. He noted that Backer's exodus leaves a huge gap, but expressed confidence that Cummings's expertise and commitment will more than compensate.
Prime Minister and Minister of Parliamentary Affairs Samuel Hinds also rose to welcome Cummings, and expressed the National Assembly's eagerness to have her contributions. He also expressed sympathy at Backer's resignation, considering the contributions she has made during her tenure.
During the same sitting APNU MP Basil Williams was appointed to the Deputy Speaker position which was left vacant following Backer's resignation. Williams's nomination, the only one made, was moved by fellow coalition MP Amna Ally and seconded by APNU executive member Rupert Roopnaraine.
This development was greeted with mixed reactions by Peoples Progressive Party Civic (PPP/C) MPs. PPP/C MP Anil Nandlall in particular exclaimed: "Oh Lord!" following Williams's nomination.
Alliance for Change (AFC) and APNU MP's on the other hand reacted with table-slaps of approval, and when the nomination was put to a vote there was no opposition to Williams's ascension to the Deputy Speaker post. Several government members, however, opted to stay silent.
Williams was welcomed to the post by Trotman, who said that he envisages a "wholesome partnership" between the two.
Meanwhile, APNU MP and Shadow Local Government Minister Ronald Bulkan was bumped up to the opposition front benches from today. Bulkan though, told Stabroek News that he would have preferred to get to the front benches under different circumstances.
He said that Backer, who he replaces on the front benches, was invaluable to the work of the National Assembly, and he hopes she will make a comeback at some point. Bulhan's seat in the back benches is now occupied by APNU MP Jaipaul Sharma.
On the government side, Human Services Minister Jennifer Webster now occupies former Local Government Minister Ganga Persaud's seat in the government front benches. Persaud announced his resignation from the Local Government Minister portfolio last month, citing vague reasons. He will, however, retain his position as an MP, although he has missed the last few sittings of the National Assembly.
Comments

Several candidates recorded outstanding performances at this year's Caribbean Advanced Proficiency Examination (CAPE).

 Geometric improvements will be carried out on the East Coast Railway Embankment Road come September for smoother traffic flow.
Swift action by the Law Enforcement and Investigation Division (LEID) of the Guyana Revenue Authority (GRA) aided in the removal of a large quantity of seized foreign chicken from two separate cold storage facilities in the Berbice area after it was discovered that the commodities were unlawfully being disposed of, the GRA said today.

Farha Faiz, a lawyer, speaks with the media after a verdict for the controversial Muslim quick divorce law outside the Supreme Court in New Delhi, India August 22, 2017.  

Defeat Tallawahs by 37 runs Chris Gayle, playing in his 50th CPL match, produced his 63rd T20 fifty as St Kitts & Nevis Patriots cruised past Jamaica Tallawahs by 37 runs to guarantee a place in the playoffs for the first time in their three-year history.