The Cuban doctor, Iliana Urrutia-Yearwood, 43, whose Guyanese husband beat her in her head with a hammer on February 19 and subsequently committed suicide, said he was depressed and needed help.
Victor Yearwood, 37, a pharmacy assistant at the New Amsterdam Hospital, was behaving a bit abnormally and had been pacing the house just before a misunderstanding ensued.
Dr Iliana said he had been frustrated over a lot of issues, including being harassed by the mother of his children for money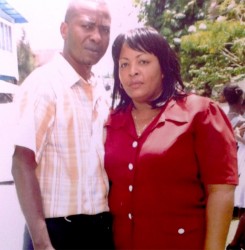 and she "wanted to take him to see the psychiatrist."
In an exclusive interview with Stabroek News,  Iliana said it all started while they were preparing to go to work and he demanded to know if she had "something to discuss with him." She responded that she didn't.
She learnt later that a colleague had told him that she (the doctor) had made some decisions and was keeping them from him. She felt that "too much gossip" could have triggered his rage.
Recounting the events that led to the beating that morning, she said her coffee tasted funny and she asked him what he had put in it.
It was suspected that he had laced her coffee with poison. He became angry and asked why he would do that and hit her in her face.
Just then he ran into the room and brought out the hammer and inflicted the blows to her head. But when he saw the blood he regretted his actions and drove "really fast to the hospital and he put me on a stretcher."
She then told him, "Victor, I'm dying and he kissed me and said 'Baby, you won't die'."  Iliana remembered that the week before they were so happy together. They were also planning to go to Cuba in August.
Problems
She admitted that they were having problems at times like any normal couple, stemming mostly because of their "different cultures" and over money. She said he wanted her to discuss her salary with him and she did not like that.
She was disappointed with reports carried in another newspaper that she was transferred to the Georgetown Public Hospital. The reports, she said caused persons to believe that her condition had gotten worse.
She said too that the newspaper mentioned that neighbours had to intervene and tell him to take her to the hospital but that never happened.
In fact, she said she told him to "take me to the hospital… He couldn't manage and he called someone to help him."
In tears, she said "I don't know why he drank the poison," lamenting that she loved him and misses him a lot.
"He was my husband and best friend. Sometimes he would be so over-protective as though I'm a child."
She feels that because she was from another country, "he would call all the time when I am out to make sure I'm ok."
She had even encouraged him to complete his pharmacy programme at the University of Guyana (UG). He was supposed to start a Biology course at the Institute of Distance and Continuing Education before applying to UG.
Meanwhile, when he took her to the hospital he told the medical personnel that "her pressure was high and she fell in the bathroom and hit her head."
She also kept the truth from the doctors and had not given any statement to the police when they approached her.
But doctors became suspicious about the abuse and called the police. By then he had already hurried out of the hospital.
The officers searched his Savannah Park, New Amsterdam house but he was not there. They received a report about one hour later that a "white car with blood" was seen in the area. When they got to the scene the officers searched the canefield but could not find him.
They were about to abandon the search when the man started to scream out in pain and they took him to the hospital.
His sister, Nicola Yearwood told Stabroek News that her brother related to her that the police dragged him out of the canefield and badly bruised his back, causing him more pain.
Comments
The National Agricultural Research and Extension Institute (NAREI) has utilised a number of new banana lines which are most likely resistant to the Black Sigatoka Disease.
Secretary-General of the Caribbean Community (CARICOM) Ambassador Irwin LaRocque has urged Sweden to use its position in two major international organisations to highlight the "unfair labelling" of some of the Community's Member States as "non-cooperative tax jurisdictions".

First Lady, Sandra Granger, yesterday, met with members of the Covenant Home for Children, a United States-based charity, which is registered in California and focuses on the homeless, runaway, abandoned, abused, trafficked, or exploited youth of Guyana.

Allen Chastanet   CASTRIES, St. Lucia, (Reuters) – The prime minister of the small Caribbean country of St.
Dear Editor, Kindly publish my response, as follows, with regard to an anonymous letter published by the Guyana Chronicle on Wednesday, August 16, 2017, under the caption 'Will the Auditor General investigate the deputy chief elections officer?' Editor, this letter is the second deliberate attempt aimed at besmirching my integrity, obviously with clandestine objectives.