An accident at Greenwich Park, East Bank Essequibo (EBE) on Wednesday night has left a United States-based Guyanese, who was vacationing in Guyana, dead.
Mohan Lall, 58, died on arrival at the Leonora Cottage Hospital after being struck down by a minibus as he attempted to cross the road. Lall had been in Guyana for the past six weeks and was expected to travel back to the US next week.
According to police, investigations are being conducted into the accident and the driver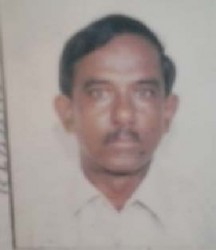 of the minibus is in custody assisting with investigations.
According to Helima Mohammed, Lall's relative, the father of one would normally stay at her home across the road from his house whenever he visited Guyana. She said that on the night of the accident, he had gone over to lock up his house after the carpenters who were working on it had left, around 6 pm.
The woman added that just a few minutes before 8 pm, she started to wonder why he had not returned. "I was just telling my husband that Lall spend long. I was wondering how come he spend so long because he don't normally spend so long and as soon as I finished talking, I heard this loud bam! From the noise, I knew it was an accident," Mohammed said, near tears. She added that she, her husband and son immediately ran outside and realized that Lall had been hit down.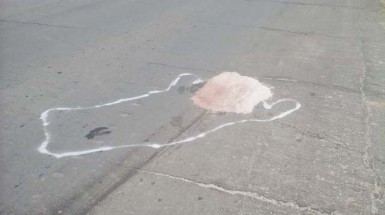 An eyewitness said that she saw Lall's body pitch approximately 20 feet away from the point in front of his house after he was hit just as he attempted to cross the road. She said he had only made a few steps onto the road when he was hit. She alleged that the bus was travelling from Georgetown heading to Parika a fast rate when it hit Lall.
She added that after the accident, the driver of the minibus subsequently left the scene, stating that he was going to the police station.
Mohammed said her husband took Lall to the hospital where he was pronounced dead on arrival. By this time, the woman said scores of residents from within the area as well as persons travelling in public transportation stopped to enquire what had happened and whether the man was alive.
"After all that happened like I got confused, I can't remember anything else. I just started hollering when it really sink in what happened," Mohammed said.
She said she saw the minibus driver return to the accident scene later on in the night and the next morning as well, accompanied by police officers.
Lall migrated to the US ten years ago after he had sustained a broken leg from an accident he had been involved in. Mohammed related that he used to be a minibus driver while living in Guyana until his accident.
Mohammed described him as an easy going and loving man who will be missed by his family members. He is survived by his wife and daughter who both reside in the US and are expected to travel to Guyana shortly.
Comments

A section of the Kitty Public Road is to be closed from Wednesday as the Ministry of Public Infrastructure steps up road works in the area.

Anil Nandlall Former Attorney General Anil Nandlall today rejected an explanation by Minister of State, Joseph Harmon over the government's directive to the Police Service Commission to halt promotions.

The improvised weapons (Prisons photo) Prison Staff this morning with the support of the members of the other services, reported for duty at the new holding area lusignan Prison.

Nicolas Maduro CARACAS/LIMA, (Reuters) – A group of 12 regional nations plus the United States rejected Venezuela's new government-allied legislative superbody, saying they would continue to regard the opposition-controlled congress as the country's only legitimate law maker.

Eighteen prisoners at the Lusignan penitentiary were being treated for injuries last night following a reported attempt to kill a fellow inmate during which warders fired shots.